March 13, 2019
NAFCU reiterates need for BSA/AML reforms to House panel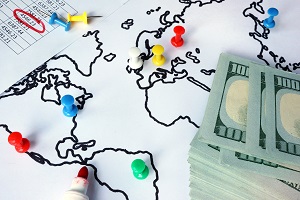 NAFCU's Brad Thaler, noting the compliance difficulties credit unions face under the Bank Secrecy Act (BSA)/anti-money laundering (AML) regime, offered the association's support for efforts by House Financial Services Committee leadership to strengthen and improve the system.
Thaler, NAFCU's vice president of legislative affairs, sent a letter ahead of today's hearing with the House Financial Services Subcommittee on National Security, International Development and Monetary Policy focused on legislative proposals to detect and deter financial crime.
The subcommittee is set to consider three proposals, one of which is offered by Committee Chairwoman Maxine Waters, D-Calif., that would make changes to AML safeguards. Committee Member Carolyn Maloney, D-N.Y., offered another one to require corporations to disclose more information about their owners.
As credit unions work to combat criminal activity in the financial system, Thaler said that many BSA/AML requirements are hard to implement.
"Our members have consistently reported a lack of consistency among examiners in reviewing BSA policies and procedures, which makes it difficult to accurately anticipate how extensively to prepare for an exam," Thaler wrote. "Additionally, many of our members have indicated that prudential examiners are too heavily focused on auditing absolute numbers of Suspicious Activity Report (SAR) filings and absolute compliance."
Within the draft legislation, Thaler offered support for:
a focus on training for examiners on countering the financing of terrorism (CFT) and AML issues, as it will improve credit unions' exams;
efforts to modernize the AML system, including encouraging innovation and allowing the testing of new technologies and innovations; and
increasing information sharing and allowing the sharing of compliance resources among financial institutions.
Thaler also provided additional ways to expand and improve the proposals for the subcommittee to consider:
raising the threshold for SAR and Currency Transaction Report (CTR) filings in order to reduce credit unions' burden and ensure FinCEN can accurately assess filings; and
providing technical grants or training through FinCEN to help reduce costs and man-hours required for compliance.
A NAFCU witness has previously testified on the need for BSA/AML reforms, and the association is supportive of introduced legislation that would provide some relief to credit unions by raising certain thresholds, including for CTRs and SARs.
Related Resources
---
Get daily updates.
Subscribe to NAFCU today.