October 05, 2018
NAFCU retells FI regulators: Don't loosen Volcker rules on big banks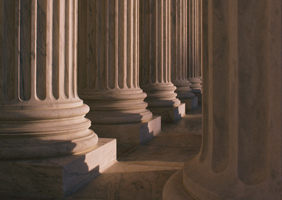 "Eroding critical protections of the Volcker Rule will likely undermine financial stability and exacerbate the risks posed by speculative trading," wrote NAFCU's Carrie Hunt in a letter to federal banking regulators Thursday. NAFCU is urging the agencies to withdraw a proposed rulemaking that would loosen Volcker rule requirements.
Hunt, NAFCU's executive vice president of government affairs and general counsel, argued that the Volcker rule "is a critical reform that merged from the financial crisis which restricts proprietary trading by bank entities. It is the logical and essential response to the mantra of 'too big to fail.'" NAFCU last month released a white paper calling on Congress to create a modernized Glass-Steagall Act in order to protect consumers from banks that are too big to fail.
In addition, Hunt highlighted that the proposed rulemaking regarding Volcker would:
undermine well-established principles of safety and soundness;
eliminate safeguards that are designed to prevent improper, speculative trading; and
widen the liquidity management exclusion, which NAFCU believes the agencies should actually seek to narrow.
The letter was sent to the Federal Reserve Board of Governors, Commodity Futures Trading Commission (CFTC), Federal Deposit Insurance Corporation (FDIC), Office of the Comptroller of the Currency (OCC) and Securities and Exchange Commission (SEC). NAFCU President and CEO Dan Berger previously outlined NAFCU's concerns to the agencies in a June letter.
Read the full letter here.
Related Resources
---
Get daily updates.
Subscribe to NAFCU today.