December 18, 2018
NAFCU seeks comments on Reg CC proposal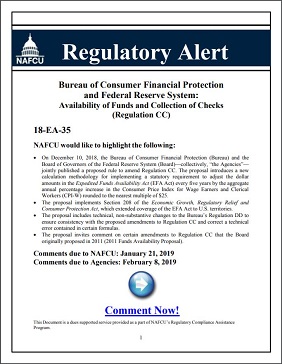 NAFCU is seeking credit unions' feedback on a proposed rule issued jointly by the Bureau of Consumer Financial Protection and the Federal Reserve Board of Governors that would introduce a new calculation methodology for adjusting dollar amounts under the Expedited Funds Availability (EFA) Act to account for inflation.
NAFCU, in a Regulatory Alert sent last week to member credit unions, explained that the proposal:
implements the Dodd-Frank Act requirement to adjust the dollar amounts in the act every five years by the aggregate annual percentage increase in the consumer price index for wage earners and clerical workers (CPI-W) rounded to the nearest multiple of $25;
implements a section of S. 2155 that extended coverage of the EFA Act to U.S. territories;
includes technical corrections to the bureau's Regulation DD to ensure consistency with the proposed Regulation CC amendments and fix an error contained in certain formulas; and
asks for comments on certain amendments to Regulation CC first proposed in 2011 and which are now subject to the joint rulemaking authority of the bureau and the Federal Reserve.
NAFCU would like to know if credit unions agree with the proposed methodology and the approach to implement adjustments ever five years, and if the changes will pose any compliance challenges.
Credit unions can submit comments to NAFCU through its Regulatory Alert until Jan. 21; comments are due to the agencies Feb. 8.
Related Resources
Operations Accounts
Blog Post
---
Get daily updates.
Subscribe to NAFCU today.