July 13, 2022
NAFCU Services Announces 2022 Innovation Award Finalists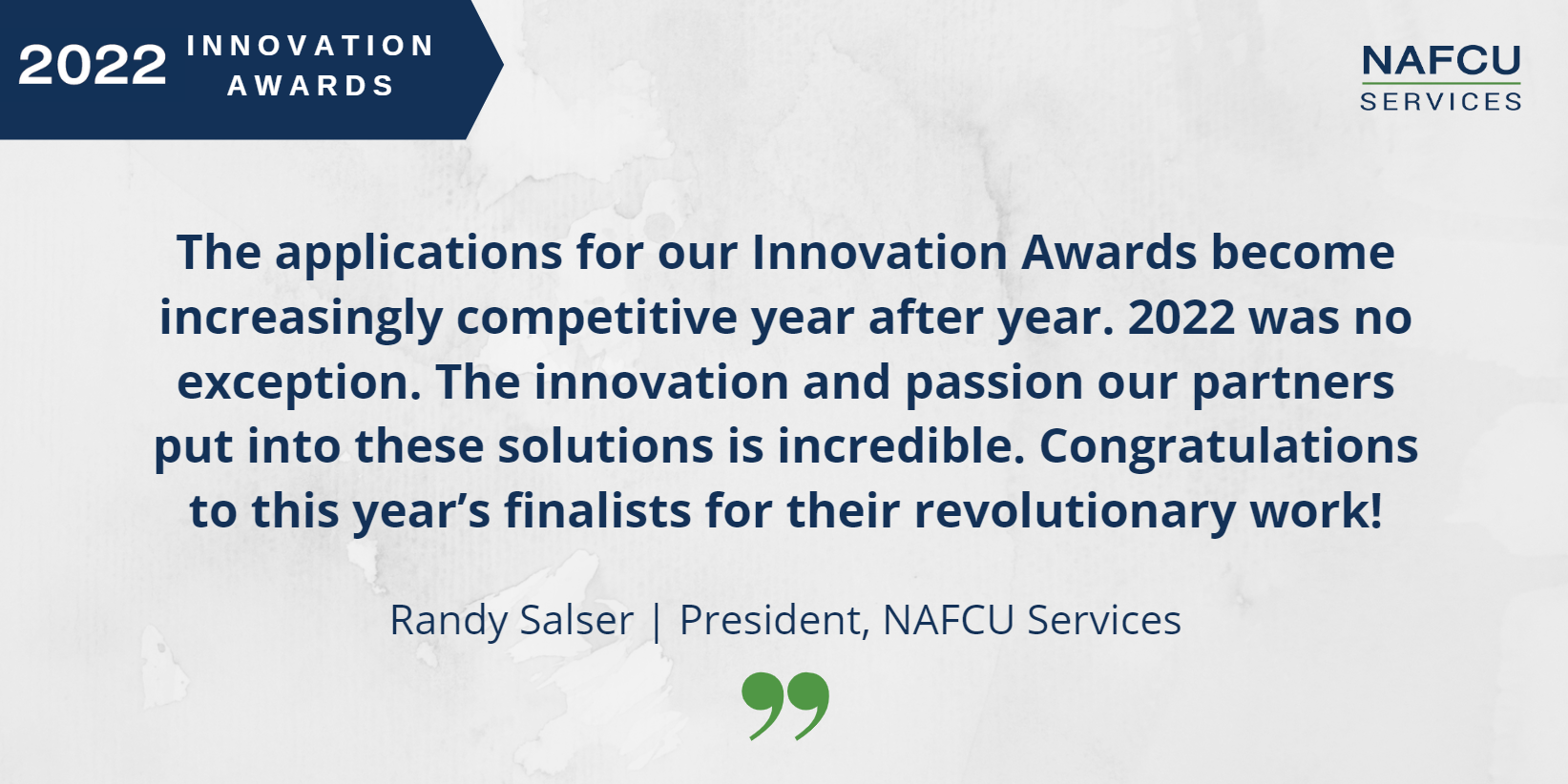 ARLINGTON, Va.- July 13, 2022 - NAFCU Services is proud to announce the 2022 Innovation Award finalists. These awards recognize groundbreaking solutions that help credit unions compete and thrive in a complex marketplace. An independent, third-party panel of judges selects the winners. The Innovation Awards is an annual program, presented by NAFCU Services, that honors the transformational and valuable contributions to the credit union industry. 
The 2022 award winners will be announced at the NAFCU Congressional Caucus this September in Washington, DC.
"The applications for our Innovation Awards become increasingly competitive year after year. 2022 was no exception," says President of NAFCU Services, Randy Salser. "The innovation and passion our partners put into these solutions is incredible. Congratulations to this year's finalists for their revolutionary work!"
The panel of judges, comprised of prominent members of the credit union media and respected industry executives, will evaluate the entries based on the degree of innovation and the impact on credit unions' success. The 2022 judges are: Kathy Chicas, Chief Operating Officer at Farmers Insurance Federal Credit Union; Mike Lawson, Creator and Host of CUbroadcast; Jim Pack, SVP and Chief Member Service Officer at Coastal Federal Credit Union; Lauren Culp, Publisher & CEO of CUInsight.com; and Diana Kot, Vice President of Membership Development and Advocacy at SchoolsFirst Federal Credit Union. Learn more about our esteemed judges here.
2022 Innovation Award Finalists:
•   Allied Solutions
•   AWS
•   ARCSys
•   Blend
•   TruStage
•   CUNA Mutual Group
•   DefenseStorm
•   FIS
•   Insuritas
•   LendKey
•   Mastercard
•   Open Lending
•   Pentegra
•   Persistent Systems
•   Q2
•   SentiLink
•   SRM
•   Total Expert
•   Upstart
•   Velocity Solutions
•   Wolters Kluwer
# # #
---
About NAFCU Services
As part of the National Association of Federally-Insured Credit Unions, NAFCU Services provides funding, educational content, and a portfolio of trusted and vetted Preferred Partners.
For 40+ years, we've served credit unions across the country. Our team of partners delivers groundbreaking ideas and next-gen solutions, enabling credit unions to compete, change the status quo, and grow their institutions. For more information, visit our website and follow us on Twitter
Related Resources
---
Get daily updates.
Subscribe to NAFCU today.