May 22, 2018
NAFCU-sought ADA language included in 2019 approps measure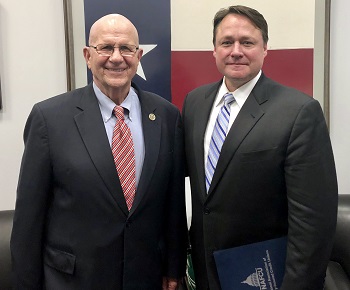 The Justice Department (DOJ) would be expected to clarify website accessibility standards under the Americans with Disabilities Act (ADA) according to a provision added to a House Appropriations measure last week. NAFCU has urged the department – through numerous meetings and letters – to bring clarity to this area of compliance as credit unions around the country are dealing with demand letters and lawsuits due to unclear rules.
House Appropriations Commerce, Justice, Science, and Related Agencies Subcommittee Chairman John Culberson, R-Texas, added the provision to the fiscal 2019 subcommittee's appropriations measure. Specifically, the added language requests that the DOJ clarify its ADA language regarding website compliance in fiscal 2019. In December, the DOJ withdrew four advance notices of proposed rulemaking (ANPRs) related to the ADA – including two that dealt with the accessibility of web information – citing the need for further review.
Just last week, NAFCU President and CEO Dan Berger met with Rep. Ted Poe, R-Texas, to discuss the ongoing issue of credit unions being targeted by lawsuits related to unclear website accessibility requirements under the ADA. NAFCU has worked closely with Poe to get relief on website accessibility demand letters.
NAFCU has been active on this issue since last fall and began filing amicus briefs to support credit unions targeted by ADA website accessibility litigation in December. So far, five of the lawsuits in which NAFCU has filed an amicus brief have been dismissed.
The association is asking for those credit unions receiving demand letters and deciding to fight them through litigation to let NAFCU know by emailing NAFCU Vice President of Regulatory Compliance Brandy Bruyere (bbruyere@nafcu.org) and NAFCU Special Counsel for Compliance and Research Pamela Yu (pyu@nafcu.org).
So far, credit unions in 25 states have notified NAFCU of demand letters. NAFCU will continue to engage with various stakeholders on the issue, including Congress, states' attorneys general and the DOJ to clarify regulatory standards for websites.
The association has myriad resources available to members on its website, including an ADA resource page with best practices from in-house compliance and legal experts, and an FAQ document on the issue.
Get daily updates.
Subscribe to NAFCU today.