September 08, 2021
NAFCU-sought legislation to provide CU flexibilities introduced in the House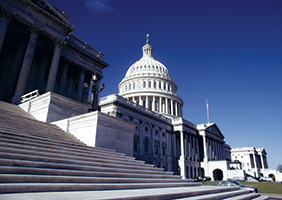 Reps. Vicente Gonzalez, D-Texas, and Brian Fitzpatrick, R-Pa., Tuesday introduced the Member Business Loan Expansion Act. The NAFCU-sought bipartisan legislation would allow the NCUA the flexibility to provide credit unions with relief from the 15-year general loan maturity limit under the Federal Credit Union (FCU) Act and raise the de minimis value of what counts toward the member business lending (MBL) cap from $50,000 to $100,000.
In addition, the bill would amend the definition of "community financial institution" under the Federal Home Loan Bank (FHLB) Act to include credit unions.
"NAFCU applauds Congressmen Gonzalez and Fitzpatrick for introducing this bipartisan legislation to help credit unions better serve their local communities," said NAFCU President and CEO Dan Berger in response to the bill introduction. "Credit unions have long sought to provide essential loans to small businesses – including many that are minority-owned or underserved – but have been constrained under the archaic 15-year loan maturity limit and outdated member business lending definitions.
"This new legislation will provide credit unions with increased flexibility to encourage the growth and success of small businesses. It will also ensure that more credit unions can offer affordable, high-quality mortgage loans to consumers by expanding eligibility for FHLB membership," added Berger. "This important legislation will provide great benefit to credit unions and their communities and we urge its passage."
Extending credit unions' loan maturity limits under the FCU Act has been a key component of NAFCU's advocacy for small businesses amid the coronavirus pandemic. Legislation to provide similar relief was introduced in the Senate earlier this year.
In addition, NAFCU has long sought relief for credit unions from the arbitrary MBL cap and has urged Congress to amend the FCU Act to provide credit unions with greater flexibility so they can increase access to lending to the nation's small businesses that are in need. The association has also worked to garner support from the NCUA Board on this issue.
NAFCU will keep credit unions updated on the bill's status and continue to advocate to Congress ways in which it could provide additional tools to credit unions to better support members as they recover from the coronavirus pandemic.
Credit unions can join the association in its advocacy on this issue and more during NAFCU's Congressional Caucus happening Sept. 12-15. The hybrid event will take place virtually and in-person in Washington D.C. Registration remains open and more information on the agenda can be found here.
Related Resources
Accounts Operations Consumer Lending
Blog Post
Credit Unions, Board of Directors, Web/Tech, Organizational Change, Merger
preferred partner
DDJ Myers
Blog Post
---
Get daily updates.
Subscribe to NAFCU today.