March 14, 2019
NAFCU-sought NFIP reforms discussed during hearing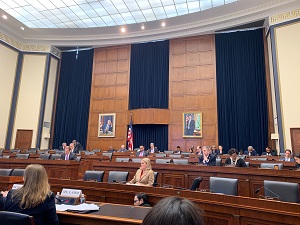 A number of NAFCU-sought reforms for the National Flood Insurance Program (NFIP) were discussed during yesterday's House Financial Services Committee hearing on reauthorizing the program. NAFCU has pushed for a number of improvements to the NFIP, including longer-term reauthorization of the program to prevent lapses.
NAFCU's recommended improvements to the program include: allowing private policies to fulfill the federal flood insurance mandate, increases in coverage limits, capping premiums and rates, and updating federal flood mapping procedures.
Wednesday's hearing included bipartisan draft legislation from Committee Chairwoman Maxine Waters, D-Calif., which aims to address the affordability of flood insurance and would also:
reauthorize the NFIP for five years;
raise coverage limits;
provide funds for improved mapping technology;
mitigate fraud and abuse within the claims system; and
take steps to continue the financial solvency of the program to maintain market stability.
Other proposed legislation related to the NFIP were also discussed.
Ahead of the hearing, NAFCU Vice President of Legislative Affairs Brad Thaler wrote in support of Waters' proposal, but cautioned against raising annual premium rates too quickly.
The committee heard from a panel of both Republican and Democrats. Republicans expressed concerns about forgiving the NFIP's debt without guaranteed reforms to make it financially solvent.
Lawmakers also discussed the importance of private flood insurance policies in helping increase affordability for consumers and reduce NFIP costs. Five federal agencies – including the NCUA – recently finalized an interagency rule that requires mortgage lenders to accept both private and government-backed flood insurance policies.
Related Resources
---
Get daily updates.
Subscribe to NAFCU today.