January 10, 2020
NAFCU takes CU 2020 priorities to Capitol Hill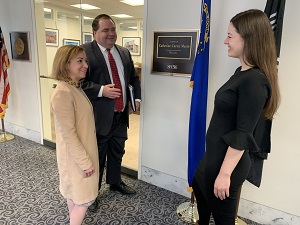 Members of NAFCU's award-winning advocacy team brought credit unions' cooperative message to Capitol Hill yesterday and unveiled the association's 2020 legislative and regulatory priorities. As the industry's Washington Watchdog, NAFCU's unmatched relationships in Congress ensure credit unions' voices are heard at the highest levels of government and industry issues are addressed with appropriate legislation.
NAFCU released its 2020 priorities – which continue to focus on ensuring a legislative and regulatory environment in which credit unions thrive – Monday as Congress returned for the second session of the 116th Congress. NAFCU President and CEO Dan Berger also sent the priorities to the House and Senate in a letter to Senate Majority Leader Mitch McConnell, R-Ky., Senate Minority Leader Chuck Schumer, D-N.Y., House Speaker Nancy Pelosi, D-Calif., and House Minority Leader Kevin McCarthy, R-Calif.
While providing House and Senate offices with copies of the association's priorities Thursday, NAFCU Executive Vice President of Government Affairs and General Counsel Carrie Hunt, Vice President of Legislative Affairs Brad Thaler, and Associate Directors of Legislative Affairs Janelle Relfe and Sarah Jacobs met with a number of offices of members on the Senate Banking Committee and House Financial Services Committee.
Throughout the meetings, NAFCU and lawmakers' staff discussed various issues, including efforts to create a national data privacy standard (the association last month released principles for such legislation), the Senate's approach to BSA reforms following House-passage of NAFCU supported bills, and legislation to provide the NCUA with greater flexibility in setting loan maturity limits.
For more from Thursday's visit to the Hill, use #NAFCUTakeover on Twitter to view the team in action.
Learn more about NAFCU's 2020 priorities and see the wins the association achieved in 2019 that set the stage for even more success this year.
Related Resources
---
Get daily updates.
Subscribe to NAFCU today.