March 01, 2023
NAFCU, trades request comment deadline extension on CFPB's credit card late fees proposal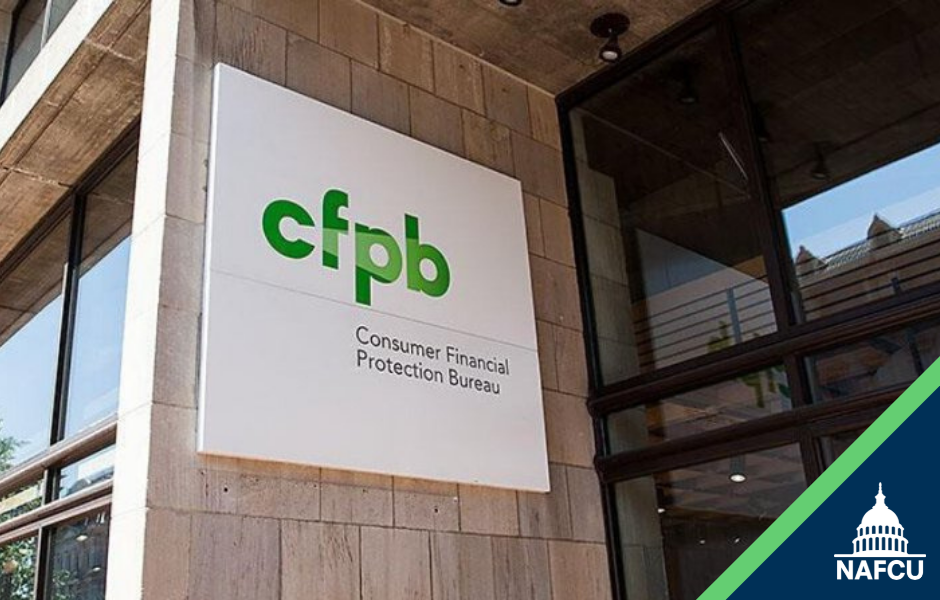 NAFCU, along with other financial industry advocacy groups, Tuesday submitted a letter to the CFPB requesting the agency provide an extension on its comment period regarding its notice of proposed rulemaking (NPRM) on credit card late fees, which was announced earlier this month.
"The NPRM proposes significant changes to, and requests wide-ranging comments on, long-standing provisions of Regulation Z," wrote the groups. "Determining the impact of the proposed amendments to Regulation Z on consumer cardholders using data and models – information lacking from the NPRM – will require considerable time to attempt to gather and analyze relevant information to respond meaningfully to the proposal."
The organizations also noted that failure to provide the industry time to consider the proposed rule would likely result in "an incomplete administrative record and arbitrary agency action, and likely would result in unintended consequences, adverse consumer and small business impact, and ultimately, create flawed public policy."
Calling out the CFPB's non-adherence to its obligations under the Small Business Regulatory Enforcement Fairness Act (SBREFA), the groups pointed out the agency's own lack of data on the proposal's impacts. NAFCU has urged the CFPB to convene an SBREFA panel to consider the impact the rule would have on small entities. 
NAFCU encourages credit unions to offer feedback via a survey to support NAFCU in its advocacy to push back on the CFPB's proposal. The feedback provided by the survey is critical to NAFCU's efforts to educate the CFPB on how this rulemaking would hurt the credit union industry and the 135 million members they serve.
Read the letter and take the survey. NAFCU will continue its strong advocacy against this proposed rule to ensure credit unions and their members do not lose access to safe, affordable credit options.
Related Resources
Add to Calendar 2023-03-20 14:00:00 2023-03-20 14:00:00 Liquidity Considerations in Light of Silicon Valley Bank As the financial industry is discussing the ramifications of the recent closings of Silicon Valley Bank (SVB) and Signature Bank, many are asking themselves, "Where do we go from here?" This is an opportunity to take a step back and evaluate your institution's next steps in this rapidly changing environment. The combination of mindset, critical thinking, and an understanding of the potential impact of different scenarios has increased in importance.  In this webinar, Liquidity Considerations in Light of Silicon Valley Bank, your questions and concerns will be addressed about short-term and long-term liquidity management and analysis, opportunities and risks that could arise from member actions, and the importance of maintaining trust and communication with your members throughout this wild ride.    Key Takeaways Heighten your thought process and strategies regarding the position of your credit union and considerations around potential actions Understand how evaluating your liquidity, ranging from expectations to stress events, from 3 levels helps you gain perspective on how much you may directly control, versus liquidity that is reliant on others Explore examples of critical thinking around the potential outcomes that you may want to examine FREE FOR ALL   Register NowOne registration gives your entire team access to the live webinar and on-demand recording until March 20, 2023.Go to the Online Training Center to access the webinar after purchase »   Who Should Attend C-suite Executive vice presidents Education Credits NCRMs will receive 1.0 CEUs for participating in this webinar Web NAFCU digital@nafcu.org America/New_York public
Credits: NCRM
Webinar
Accounts Advertising
Blog Post
Add to Calendar 2023-03-16 14:00:00 2023-03-16 14:00:00 AI Lending Partnerships and the Power of Efficiency About The Webinar How one credit union is balancing profitability and member growth with personal loans.   Discover how your credit union can tap into personal lending opportunities to gain new, creditworthy members safely, even in periods of economic volatility. This session will dive deep into how a Chief Lending Officer is growing members in Arizona and proactively managing their return targets.  Attendees will hear about: Attracting new members for long-term growth with a digital-first experience The benefits of AI-driven lending, including more accurate credit decisioning How Vantage West is navigating a successful partnership with a fintech How Upstart has helped Vantage West lend more inclusively as a CDFI Web NAFCU digital@nafcu.org America/New_York public
preferred partner
Upstart
Webinar
Add to Calendar 2023-03-15 14:00:00 2023-03-15 14:00:00 Exponential Fraud Exposure: Reg II Awareness About the Webinar On this webinar we explore the impact of Reg II on card-not-present fraud. We'll hear from Ann Davidson, VP of Risk Consulting, at Allied Solutions and a first-hand account of the implications attached to this regulation from Tracie Wilcox, President and CEO of On Tap Credit Union. We will examine how the timeline, with an effective date of July 1, 2023, will likely create unintentional negative consequences for consumers and credit unions as they're forced to reprioritize this implementation over other consumer-oriented and security-focused improvements. This webinar will provide valuable insights into the challenges and potential solutions for navigating the new regulation. Attendees will walk away equipped with: An overview of Reg II and the upcoming implementation deadline. Steps to take to mitigate exposure. Examples of the risks on the horizon. Ann and Tracie are looking forward to sharing their vast  experience and knowledge with the NAFCU community on March 15th. WATCH NOW Web NAFCU digital@nafcu.org America/New_York public
preferred partner
Allied Solutions
Webinar
---
Get daily updates.
Subscribe to NAFCU today.