July 11, 2019
NAFCU urges further review of credit reporting reforms ahead of markup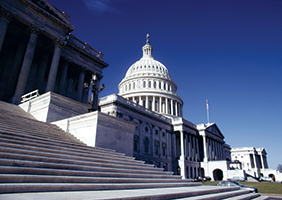 Ahead of today's House Financial Services Committee markup, which includes a number of bills related to credit score reporting, NAFCU's Brad Thaler acknowledged that "recent events, including the Equifax data breach, have demonstrated [that] reforms are needed for our nation's consumer credit reporting system. However, such reforms should be carefully considered after seeking input from all parties involved – including consumers, regulators and financial institutions."
The markup, set to begin at 10 a.m. Eastern, includes 15 bills that seek to address issues related to the credit score reporting system, housing, and diversity and accountability.
Thaler, NAFCU's vice president of legislative affairs, offered the association's support of three bills:
Ensuring Diverse Leadership Act (H.R. 281): "NAFCU is pleased to see the Committee's ongoing efforts to promote diversity and inclusion in financial services," Thaler wrote. The bill, offered by Rep. Joyce Beatty, D-Ohio, would help ensure that Federal Reserve Banks interview candidates reflective of gender and racial or ethnic diversity when appointing Federal Reserve presidents.
Homebuyer Assistance Act (H.R. 2852): The amendment in the nature of a substitute to this legislation, offered by Reps. Brad Sherman, D-Calif., and Sean Duffy, R-Wis., would improve the process for getting appraisals for Federal Housing Administration-backed mortgages.
Free Credit Scores for Consumers Act (H.R. 3618): This bill, also offered by Beatty, would provide consumers with free access to credit scores and "should help consumers' understanding of the credit process and their credit standing."
However, Thaler flagged that some of the credit score reporting reforms proposed in other legislation, while well-intended, could have consequences on lenders and consumers and the credit decision process, including:
Restricting Use of Credit Checks for Employment Decisions Act (H.R. 3614): Thaler asked that lawmakers consider financial regulators' possible expectations for including background checks that may include credit reports during financial institutions' hiring process.
Clarity in Credit Score Formation Act (H.R. 3629): As "credit unions are already at the forefront in using non-traditional data to help their members obtain credit," Thaler cautioned against  increasing the CFPB's involvement in establishing regulations for credit scoring models that could hinder or create new burdens with such efforts.
Improving Credit Reporting for All Consumers Act (H.R. 3642): While there are positive provisions in the bill, Thaler recommended reconsidering sections that that could put onerous new burdens on community institutions such as credit unions, and potentially open the door to frivolous disputes and other abuses of the system that could overwhelm smaller institutions.
Thaler urged the committee to further examine NAFCU's concerns before advancing any major credit reporting reforms.
NAFCU will attend today's markup and keep credit unions updated on the committee's discussions.
Related Resources
Home-Secured Lending
Blog Post
Frequently Asked Questions
Home-Secured Lending
Blog Post
---
Get daily updates.
Subscribe to NAFCU today.