March 04, 2021
NAFCU urges for House support of MBL relief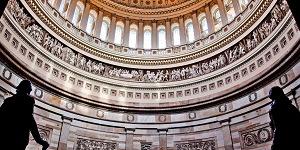 NAFCU Vice President of Legislative Affairs Brad Thaler wrote to House leadership Wednesday to call for support for the bipartisan Access to Credit for Small Businesses Impacted by the COVID–19 Crisis Act, H.R. 1471. The NAFCU-sought legislation was introduced Monday by Reps. Brad Sherman, D-Calif., and Brian Fitzpatrick, R-Pa. and would provide a temporary exemption from the credit union member business lending (MBL) cap for loans made to small businesses as they recover from the coronavirus national emergency.
In the letter, Thaler urged members of the House to support the bill and advance it as part of pandemic recovery efforts. Thaler also noted that the current "arbitrary credit union MBL cap serves as a disincentive for many credit unions to focus on small business programs."
Specifically, Thaler noted, the enactment of the bill would "help encourage more credit unions to establish and enhance member business lending programs designed to help their small business members recover from the COVID-19 pandemic beyond the PPP."
The bill would allow credit unions to exempt from their MBL cap loans made within the year from when the national emergency that was declared on March 13, 2020, expires to small businesses to aid in their recovery of the coronavirus pandemic. It would also require the NCUA to issue implementing regulations that ensure a credit union's safety and soundness are not impacted by the loans.
Similar legislation was introduced in the House and Senate last year. NAFCU's advocacy rallied support from more than 60 members of Congress for this MBL relief to be included in coronavirus relief efforts.
The association has long sought relief for credit unions from the arbitrary MBL cap and, amid the coronavirus pandemic, has urged Congress to amend the Federal Credit Union Act to provide credit unions with greater flexibility and relief from the MBL cap so they can increase access to lending to the nation's small businesses that are in need. The association has also worked to garner support from the NCUA Board on this issue.
Read Thaler's full letter. NAFCU will keep credit unions updated on the bill's status and continue to advocate to Congress ways in which it could provide additional tools to credit unions to better support members amid the pandemic.
Related Resources
Consumer Lending
Blog Post
Add to Calendar 2023-11-28 09:00:00 2023-11-28 09:00:00 Growing Creatively & Innovatively in 2024 Listen On: Key Takeaways: [0:58] What can credit unions do to best prepare themselves for 2024? [2:12] Although he sees a glimmer of hope, Jack points out that the liquidity crisis and slow prepayment speeds hamper rapid recovery. [5:22] We discuss how credit unions seek low loan growth through member-centric strategies such as second mortgages and home improvement lending. [7:34] Credit unions are leveraging advancing technology for member-focused engagement. [9:31] How will technology continue to evolve and affect credit unions? [11:43] What role does AI play in innovative growth? [14:14] Credit unions adopt technology for efficiency, enabling staff to focus on personalized member interactions, especially with younger generations. [17:14] Closing thoughts, emphasizing competition against banks and fintech for younger generations. Web NAFCU digital@nafcu.org America/New_York public
Strategy & Growth, Consumer Lending
preferred partner
Allied Solutions
Podcast
---
Get daily updates.
Subscribe to NAFCU today.