June 13, 2018
NAFCU urges support of RBC-delay provision ahead of House Approps mark-up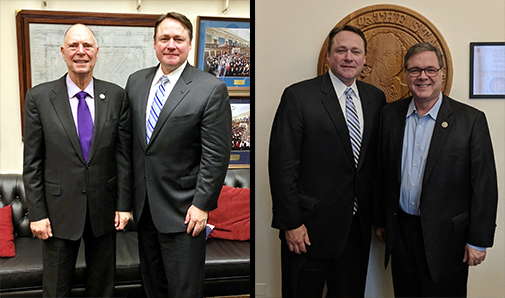 NAFCU Vice President of Legislative Affairs Brad Thaler urged leaders of the House Appropriations Committee on Tuesday to support a provision in the Financial Services and General Government appropriation's bill that would provide for a NAFCU-backed, two-year delay of the NCUA's risk-based capital (RBC) rule. The bill is slated for mark-up by the committee today.
This RBC-delay provision, also included in the House Financial Services Committee-passed Foreign Investment Risk Review Modernization Act of 2018 (H.R. 5841), comes from the Common Sense Capital Relief Act (H.R. 5288), which was introduced by Reps. Bill Posey, R-Fla., and Denny Heck, D-Wash., in March. NAFCU President and CEO Dan Berger met with Posey and Heck last month to thank them for their ongoing efforts to protect the industry from the adverse effects of this rule.
In his letter to Committee Chairman Rodney Frelinghuysen, R-N.J., and Ranking Member Nita Lowey, D-N.Y., Thaler explained that if this RBC rule goes into effect as written, it will have a negative impact on the industry. He pointed out that dozens of credit unions could see a downgrade in their capital levels and more than 400 institutions would see a decline in their capital cushions.
"A two-year delay in the rule would give credit unions more time to prepare and comply, and more importantly, it would give the NCUA time to fix the rule, which they have expressed interest in doing," he added.
NAFCU supports an appropriate RBC system for credit unions, but has been opposed to NCUA's RBC rulemaking since its passage and has urged the rule be modified or effective date delayed, particularly because of increased regulatory burdens and costs.
NAFCU also supports a number of other regulatory relief provisions found the appropriation's bill, including language from the Mortgage Choice Act, the Financial Institutions Examination Fairness and Reform Act, and the TRID Improvement Act, Thaler added.
He thanked the committee leaders for keeping funding for the NCUA's Community Development Revolving Loan Fund (CDRLF) at $2 million and the Community Development Financial Institutions Fund (CDFI) at $191 million. He urged the committee to find ways to increase this funding to the fiscal year 2018 level of $250 million.
"We are also pleased to see full funding levels for the Small Business Administration's 7(a) and 504 loan programs," Thaler added.
Today's mark-up begins at noon Eastern. NAFCU will monitor any action taken on this legislation.
Get daily updates.
Subscribe to NAFCU today.