March 24, 2023
NAFCU writes to FHFA on seasoned bulk transactions; agency seeks input on new credit score requirements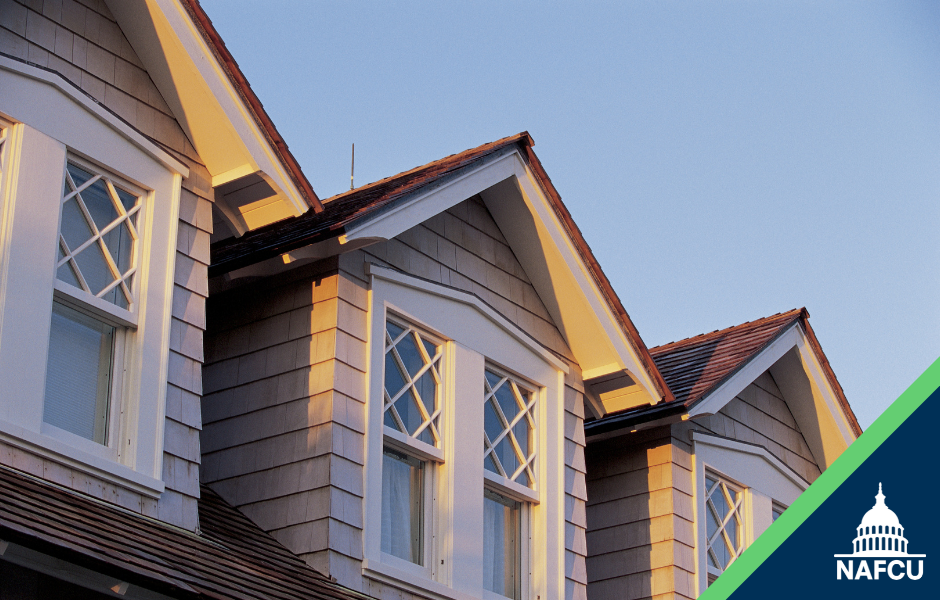 NAFCU Senior Regulatory Affairs Counsel Aminah Moore wrote to the Federal Housing Finance Agency (FHFA) to request that the agency reinstate seasoned bulk transactions through Fannie Mae and Freddie Mac, the government-sponsored enterprises (GSEs). Moore noted that access to liquidity has come to the forefront with rising interest rates along with the recent bank failures; selling residential mortgages "has been an effective way for credit unions to generate liquidity."
In the letter, Moore explained that the agency suspended seasoned bulk transactions due to several factors stemming from the COVID-19 pandemic, including an abnormally high number of mortgage originations.
"These conditions have since receded - in fact these conditions receded within a couple of months of the suspension of seasoned bulk transactions, but the suspension is still in place," wrote Moore.
Additionally, the FHFA announced the GSEs are seeking public input on implementing new credit score requirements. The new requirements mandate credit unions that sell to the GSEs to replace the classic FICO model with the FICO 10T and the VantageScore 4.0. There will also be a transition from requiring three credit reports to two.
In the FHFA's release, the agency issued a survey for more information on how to refine the projected implementation of the requirements. The FHFA estimates that the bi-merge credit report implementation could happen by early 2024 with the full process, including new credit score models, finishing in late 2025.
NAFCU Vice President of Regulatory Affairs Ann Petros delivered remarks at an FHFA public session, urging for alternative credit scoring models that more accurately capture creditworthy borrowers and offer them access to affordable credit.
Stay tuned to NAFCU Today for the latest out of Washington. 
Related Resources
Growth & Retention
preferred partner
Franklin Madison
Blog Post
Add to Calendar 2023-09-22 14:00:00 2023-09-22 14:00:00 Understanding Credit Card Portfolio Sales & Agent Programs Both credit union and bank credit card issuers are under intense pressure from various sources, including competitor innovation, significant internal resource commitments, increasing operating expenses, uncertain regulatory and economic environments and a variety of capital and liquidity constraints. This has led to about 80% of all banks offering credit cards under an 'agent issuing' model, where a third-party issues credit cards under the financial institution's name. While hundreds of credit unions do the same, and interest in this option has increased in the last two years, the majority of credit unions still own and manage this product themselves. Deciding whether this option can meet strategic, financial and member needs can be difficult to untangle. In this webinar, Understanding Credit Card Portfolio Sales & Agent Programs, you'll delve into the structure of such programs, the financial and risk-profile impacts of such a decision, the contractual commitments required of both parties and discover evaluation tips and processes for any credit union that would like to evaluate this path. Key Takeaways Discover the structure of the agent issuing concept and obligations of both parties Understand the financial impact of entering such a program to the balance sheet, income statement, and critical performance ratios Ascertain the impacts to members, including both positive and negative possibilities Review the accompanying contractual structures and key considerations Develop an evaluation process that best protects the credit union's financial and other outcomes   Register Now $295 Members | $395 Nonmembers(Additional $50 for USB)One registration gives your entire team access to the live webinar and on-demand recording until September 22, 2024.Go to the Online Training Center to access the webinar after purchase »   Who Should Attend COOs CFOs NCCOs and compliance titles NCRMs and risk titles General counsel staff Education Credits NCCOs will receive 1.0 CEUs for participating in this webinar NCRMs will recieve 1.0 CEUs for participating in this webinar CPA credit information is below; recommended 1.0 CPE credits. CPA Certification Credit Information Reviewer: Josie Collins, Senior Associate Director of Education, NAFCU Learning Objectives:  See key takeaways Program Level: Basic Prerequisites Needed: None Advance Preparation Needed: None Delivery Method: Group Internet-Based Recommended CPE Credits: 1.0 credits Recommended Field of Study: Regulatory Ethics – Technical About Our Webinars Our webinars are streamed live from NAFCU headquarters near Washington, DC. Your audio/video feed of the presenters includes presentation slides and downloadable handouts. You can easily submit your questions to the presenters at any time during the live broadcast, with no dialing over the phone! The audio and video stream directly through your computer. Web NAFCU digital@nafcu.org America/New_York public
Credits: NCCO, NCRM, CPE
Webinar
Strategy
preferred partner
TruStage
Blog Post
---
Get daily updates.
Subscribe to NAFCU today.