November 09, 2018
NAFCU's post-election advocacy begins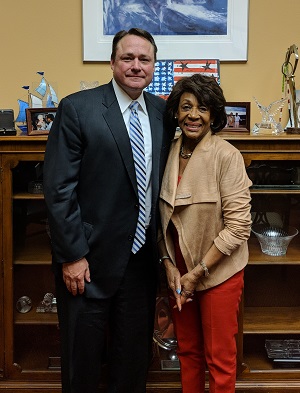 NAFCU's award-winning advocacy team is preparing for Congress to return to Washington following this week's midterm elections. Although the 116th Congress will be "split" – with Democrats controlling the House and Republicans controlling the Senate – there are opportunities for credit union priorities to be addressed yet this year and in the new congressional session.
The association secured a number of major wins for the credit union industry this year that have set the landscape for even more. A rundown of accomplishments is available here, highlighting credit unions' efforts to get S. 2155 enacted, a delay to the NCUA's risk-based capital (RBC) rule and more guidance on a number of issues.
In the lame-duck session, which begins next week, NAFCU will:
push for relief under the Bank Secrecy Act (BSA): a bill introduced by Rep. Barry Loudermilk, R-Ga., would reform the BSA and provide some relief to credit unions by raising certain thresholds, including for currency transaction (CTR) and suspicious activity reports (SAR);
continue to advocate for a strong national data security standard: the association is engaged as Congress considers a number of cybersecurity and data privacy issues, and a bill that would require data breach notifications for financial entities akin to what is in place for financial institutions under the Gramm-Leach-Bliley Act;
work with Congress to fully address credit unions' concerns related to the NCUA's RBC rule: the association recently urged the Senate to pass a provision to delay the rule until 2021, which has passed the House three times;
work with the House Ways and Means Committee and the Senate Finance Committees as they consider any tax extenders package before the end of the year, including extension of the Mortgage Forgiveness Debt Relief Act and potential modifications to the Tax Cuts and Jobs Act;
advocate for full funding for a number of programs used by credit unions: Congress must finish work on government spending measures and NAFCU has heavily advocated for full funding for the NCUA's Community Development Revolving Loan Fund (CDRLF), Treasury's Community Development Financial Institutions (CDFI) Fund and the Small Business Administration's (SBA) 7(a) and 504 loan programs; and
monitor pending nominations: Kathy Kraninger's nomination to lead the Bureau of Consumer Financial Protection awaits Senate action; Rodney Hood's nomination to serve on the NCUA Board has yet to be taken up by the Senate Banking Committee.
In the new Congress, NAFCU Director of Political Affairs Chad Adams said split-party control of Congress and the Executive Branch can make it difficult to pass major legislation, but also will allow for more opportunities of bipartisanship. NAFCU's priorities, in addition to many more, will include:
protecting the credit union tax exemption;
obtaining more regulatory relief;
enacting needed data security reforms;
ensuring credit unions' housing finance needs are addressed in housing finance reform; and
creating a legislative environment that will allow credit unions to grow and thrive.
Read more of NAFCU's midterm elections analysis here.
Related Resources
---
Get daily updates.
Subscribe to NAFCU today.