May 23, 2018
NAFCU's RBC-delay provision advances out of committee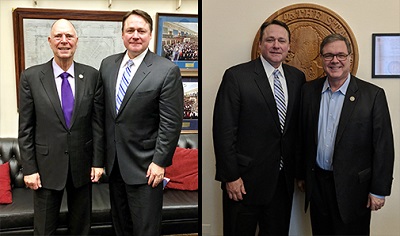 The House Financial Services Committee yesterday advanced out of committee a NAFCU-sought provision to delay the implementation of NCUA's risk based capital (RBC) rule by two years that is housed in the Foreign Investment Risk Review Modernization Act of 2018 (H.R. 5841). NAFCU has long advocated for a modification or delay of the rule, and the association's efforts proved instrumental in getting the language added to H.R. 5841.
The legislation, introduced by Rep. Robert Pittenger, R-N.C., deals with the Committee on Foreign Investment in the United States (CFIUS) but has language in Title VII that would delay the effective date of the RBC rule to Jan. 1, 2021. The language included in H.R. 5841 comes from the Common Sense Capital Relief Act (H.R. 5288), which was introduced by Reps. Bill Posey, R-Fla., and Denny Heck, D-Wash., in March. NAFCU President and CEO Dan Berger met with Posey and Heck last week to thank them for their ongoing efforts to protect the industry from the adverse effects of this rule.
Responding to an attack against the provision from the American Bankers Association, NAFCU Executive Vice President of Government Affairs and General Counsel Carrie Hunt sent an email to the House Financial Services Committee to set the record straight.
"This delay would actually give credit unions parity with the length of time that community banks had to come into compliance with new capital requirements under Basel III," Hunt wrote. "It is important to note that despite what critics claim, credit unions still have robust capital standards in place without the RBC rule, and will continue to do so should this provision be passed."
Hunt also referenced a letter from NCUA Chairman J. Mark McWatters to Posey in which McWatters offers his support for delaying the implementation of the agency's RBC rule. She noted that the ABA was attacking this provision at the same time that they "are seeking capital relief and exemptions from the Volcker Rule" and called for them instead to work with NAFCU on regulatory relief for all community institutions.
U.S. Defense Secretary Jim Mattis has also urged that CFIUS legislation be included in the National Defense Authorization Act (NDAA), which is currently under consideration in the House. NAFCU will continue to advocate for House members to include a delay of the RBC rule in the legislation.
While NAFCU supports an appropriate RBC system for credit unions, the NCUA's rule as written will have a negative impact on the credit union industry. The association has been opposed to NCUA's RBC rulemaking since its passage and has urged the rule be modified or effective date delayed, particularly because of increased regulatory burdens and costs.
Related Resources
Add to Calendar 2023-11-30 09:00:00 2023-11-30 09:00:00 Safeguarding Credit Unions with Threat Intelligence Listen On: Key Takeaways: [1:01] What is threat intelligence, and why is it important to CUs? [2:14] What are threat intelligence feeds, and what role do they play in strengthening CUs? [4:41] Leveraging threat feeds and integrating intelligence into tools is crucial. [6:35] Learn what threat CUs should be most concerned about. [7:39] Phishing is ever-evolving, and user awareness is critical. [10:43] Learn how Defense Storm uses feeds to protect its customers. [13:28] Threat intelligence is not as complicated as some think; initiation can be easy through Slack, discussions, and a reporting culture. Web NAFCU digital@nafcu.org America/New_York public
preferred partner
DefenseStorm
Podcast
Consumer Lending
Blog Post
Add to Calendar 2023-11-28 09:00:00 2023-11-28 09:00:00 Growing Creatively & Innovatively in 2024 Listen On: Key Takeaways: [0:58] What can credit unions do to best prepare themselves for 2024? [2:12] Although he sees a glimmer of hope, Jack points out that the liquidity crisis and slow prepayment speeds hamper rapid recovery. [5:22] We discuss how credit unions seek low loan growth through member-centric strategies such as second mortgages and home improvement lending. [7:34] Credit unions are leveraging advancing technology for member-focused engagement. [9:31] How will technology continue to evolve and affect credit unions? [11:43] What role does AI play in innovative growth? [14:14] Credit unions adopt technology for efficiency, enabling staff to focus on personalized member interactions, especially with younger generations. [17:14] Closing thoughts, emphasizing competition against banks and fintech for younger generations. Web NAFCU digital@nafcu.org America/New_York public
Strategy & Growth, Consumer Lending
preferred partner
Allied Solutions
Podcast
---
Get daily updates.
Subscribe to NAFCU today.