September 13, 2022
NCUA Board Member Hood, NAFCU's Berger discuss CU Industry growth, financial inclusion, more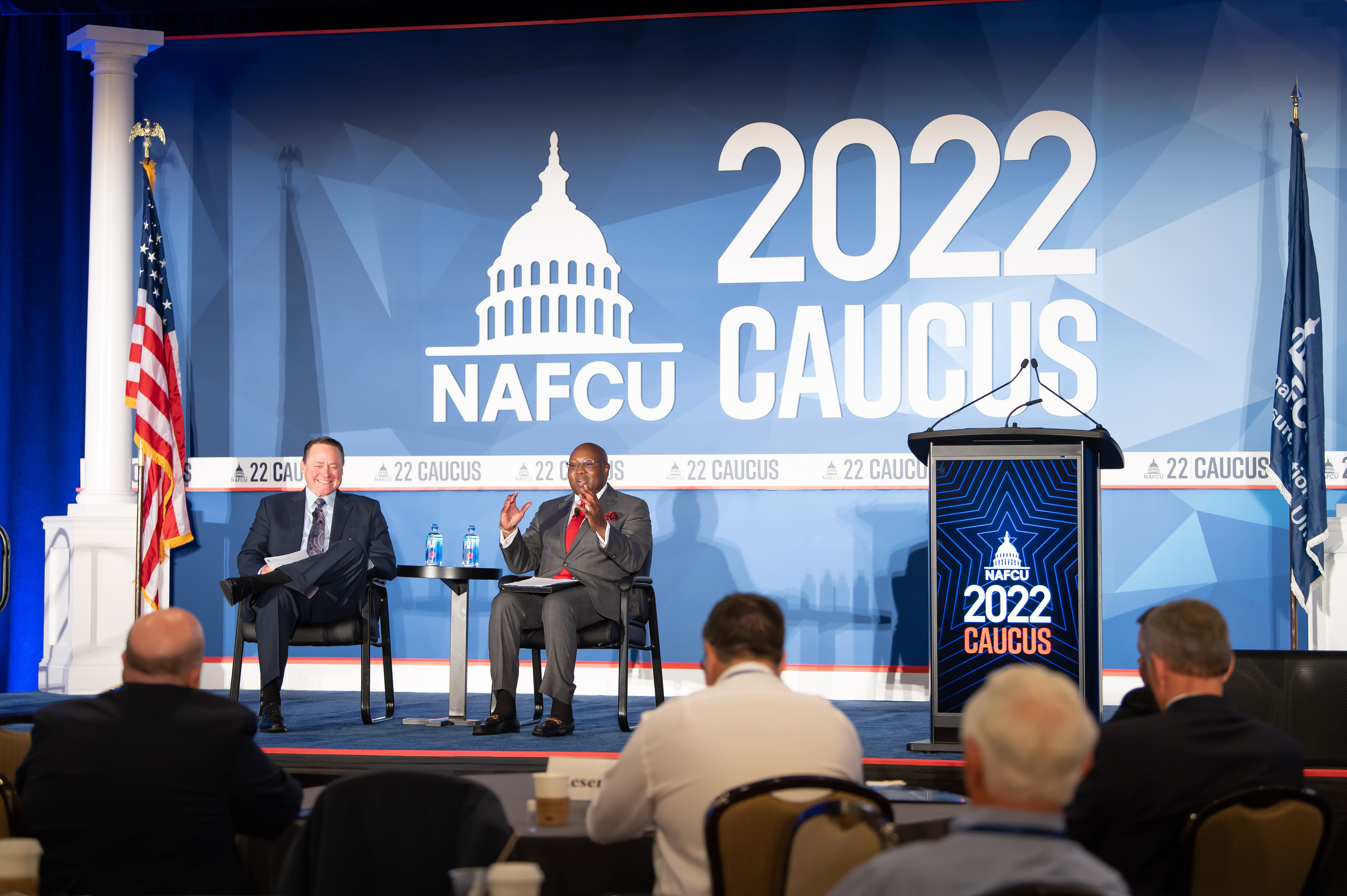 NCUA Board Member Rodney Hood addressed credit unions during the first day of NAFCU's 2022 Congressional Caucus sharing insights on the NCUA's efforts to bolster financial inclusion and innovation. Hood also touched on supply chain constraints and inflation concerns but stated that he is "positive for the future of credit unions." 
In addition, Hood also told attendees that he wants to ensure the NCUA is giving credit unions "regulatory flexibility and empowerment" to succeed, and that he has seen exponential growth, within the credit union industry, which now serves 133 million Americans, even alongside the uncertainties brought on by the pandemic.  
"You all have been that port in the storm for folks," added Hood.  
In wrapping up his remarks, Hood mentioned the NCUA's top priorities, specifically around the importance of financial equity and inclusion, as well as the pace of adding new credit unions in recent years. He reflected on whether or not the agency and the financial services industry have a "liable pipeline to bring up new credit unions," including smaller financial institutions. 
Hood also touched on the agency's stance on marijuana banking, sharing support for legislation to reform banking laws to bring these businesses into the "legitimate financial system." In the most recent episode of NAFCU's Credit Union Policy Podcast (CUPP), Representative Ed Perlmutter, D-Colo., and CUPP host, NAFCU Vice President of Regulatory Affairs Ann Petros, on all things related to the Secure and Fair Enforcement (SAFE) Banking Act.  Perlmutter is slated to deliver remarks at NAFCU's Congressional Caucus later this morning.
Hood also shared support for fintech innovation, announcing that the NCUA is developing a comprehensive rule on integrating fintechs and will continue to look for opportunities to create sandboxes to allow credit unions to partner with fintechs. 
After giving individual remarks, Hood sat down with NAFCU President and CEO Dan Berger for a fireside chat where they discussed the NCUA's recent service facility final rule, issued in December of last year. The agency in March sent a Letter to Credit Unions that modernizes the definition of "service facility" in the Chartering and Field of Membership Manual.  
NAFCU responded to the rule, sharing disappointment around the exclusion of ATMs in the service facility definition for adding underserved areas, and that the rule did not recognize online and mobile banking services as meeting service facility requirements. During the fireside chat, Hood empathized with NAFCU saying that "it would be irresponsible to not go back and look at that service facilities piece." 
To close the chat, Berger asked Hood whether the CFPB consulted the NCUA about its expected guidance around Regulation E. Hood commented on the importance of interagency coordination stating that under Dodd-Frank, the CFPB is expected to consult other regulatory agencies before issuing this type of guidance.  
Berger recently wrote to the CFPB about the possibility of expanded liability under Regulation E to further encompass fraudulently induced transfers initiated by a consumer, writing that it was "deeply concerning." 
"Credit unions are committed to providing safe, affordable, and fast payments to all their members, while also ensuring compliance with Regulation E. However, such a commitment depends on a fair and stable regulatory environment where the plain language of the EFTA does not expand beyond what was originally envisioned by Congress," added Berger. 
See the full lineup for this year's Caucus, and find the agenda here, and follow along on Twitter with #NAFCUCaucus for live event updates. 
Related Resources
Consumer Lending BSA Operations
Blog Post
Management, Relationships
preferred partner
LendKey
Blog Post
---
Get daily updates.
Subscribe to NAFCU today.