October 22, 2018
NCUA exams substantially increase focus on cybersecurity 
According to NAFCU's October Economic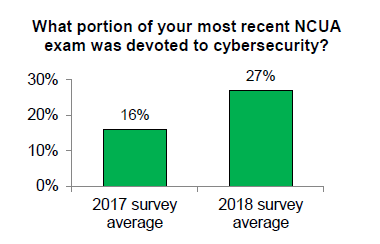 & CU Monitor survey, respondents indicated the portion of their NCUA exams dedicated to cybersecurity increased substantially from 2017 to 2018. To account for this change, respondents indicated the number of IT compliance employees have nearly doubled since 2010.  
This month's Monitor – now available for download – details the impact and costs of cybersecurity risk on credit unions, particularly from merchants. According to survey respondents, 82 percent reported that they were impacted by a local merchant breach within the past two years. 
Under current law, financial institutions, including credit unions, are governed by the Gramm-Leach-Bliley Act. NAFCU has been advocating for the creation of a national data security law, which would hold merchants, financials and other entities to standards similar to those currently upheld by financial institutions. In July, this sentiment was echoed by the Department of Treasury as they formally recommended that Congress enact a federal data security and breach notification law. 
NAFCU Board of Directors Chair Jeanne Kucey, while testifying before the NCUA Board last week, expressed concern that NCUA cybersecurity related expenditures – which have no clearly articulated limits – may be driving costs disproportionately and will continue to result in yearly budget increases at the NCUA. NAFCU has asked the NCUA to delineate a clear standard for measuring the impact of cybersecurity investments relative to risk reduction during the exam process to ensure that such investments are serving their intended purpose.
The October issue of the Economic & CU Monitor also includes results from the Credit Union Sentiment Index (CUSI), an index based on NAFCU member responses to eight questions on growth and earnings outlook, lending conditions and regulatory burden. The CUSI sunk to its lowest point on record in October, just two months after hitting an all-time high. Respondents' souring assessment of lending conditions was behind the fall. A positive outlook on the economy had the greatest impact on the growth component, and the economy, interest rates and loan demand had positive impacts on the earnings component. However, loan demand and applicant quality continued to drop in the lending component and the regulation component showed a mild improvement.
NAFCU relies on survey responses to provide its members a glimpse of trends affecting the credit union industry as a whole. The association also uses survey responses to inform its advocacy efforts on Capitol Hill and with regulatory agencies such as the NCUA, the bureau and the Federal Reserve.
The next survey covers exams. Participants can fill out the survey online or in PDF format; responses are due Nov. 6.
 
Related Resources
---
Get daily updates.
Subscribe to NAFCU today.