December 10, 2020
NCUA fall rulemaking agenda includes FOM, risk-based net worth, more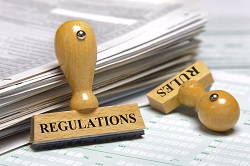 Administrative agencies – including the NCUA and CFPB – have released their spring regulatory agendas, which feature several items that NAFCU has been advocating for, as well as others that have already been introduced or included on previous rulemaking agendas.
Here are some notable items included on agencies' fall rulemaking agendas:
Field of membership (FOM) shared facility requirements:

The NCUA is set to propose a NAFCU-sought rule to modernize requirements related to service facilities for multiple common bond (MCB) federal credit unions (FCUs). The proposed rule would include any shared branch, shared ATM, or shared electronic facility in the definition of service facility for FCUs participating in a shared branching network. These changes would apply to the definition of service facility both for additions of select groups to MCB FCUs and for expansions into underserved areas.

Risk-based net worth:

In an effort to provide additional regulatory relief amid the coronavirus pandemic, the NCUA plans to propose a rule to temporarily raise the asset threshold for defining a credit union as complex for the purposes of risk-based net worth requirements to assets exceeding $500 million and a risk-based net worth requirement in excess of 6 percent. It would expire when the NCUA's risk-based capital rule goes into effect.

Complex credit union leverage ratio:

Resulting from S. 2155 passed in 2018, the NCUA is set to propose a rule to integrate an analog to the community bank leverage ratio into the NCUA's capital standards. S. 2155 required other banking agencies to propose a simplified alternative measure of capital adequacy for federally insured banks, and the NCUA intends to create a similar provision for credit unions consistent with the Federal Credit Union Act.

Compensation in connection with loans to members and lines of credit to members:

Early next year, the agency is expected to propose a rule sought by NAFCU and credit unions to modernize current regulations to align with industry practices.

Overdraft policy rule

: The board tabled its interim final rule on overdraft policy during its May meeting, but its rulemaking agenda indicates the agency plans to still finalize it. NAFCU was generally supportive of the rule and had called on the agency to provide relief measures aimed at simplifying regulatory hurdles associated with limitations on carrying and charging off negative balances.
CFPB:
Regulation B (section 1071)

: The Small Business Enforcement Fairness Act (SBREFA) panel is expected to release a report this month related to the CFPB's implementation of small business lending data collection requirements under section 1071 of the Dodd-Frank Act, according to the agenda.

Qualified mortgage definition:

The agenda indicates the bureau plans to finalize the general QM definition and seasoned QM definition yet this year. The final rule for the GSE Patch extension had indicated that a final QM rulemaking would occur no later than April 2021.

Home Mortgage Disclosure Act (HMDA) rulemakings

: In February, the bureau plans to issue a proposal addressing public disclosure of data. Separately, the bureau will address comments received on the advance notice of proposed rulemaking regarding the scope of HMDA data collection.

Regulation X – mortgage servicing:

The CFPB intends to publish a proposed rule to amend the servicing rules, including loss-mitigation related provisions to address actions required of servicers working with borrowers affected by natural disasters or other emergencies. The bureau earlier this year published an interim final rule to address loss-mitigation related provisions.
Small Business Administration (SBA):
Paycheck protection program (PPP):

The SBA is finalizing all of the interim final rules related to the PPP program, as well as restoring the affiliations standards rule that was rescinded under the CARES Act. The rule will be restored to that before March 2020.

Alternative size standards:

A proposed rule is expected on alternative size standards for loan applicants that do not meet the small business size standards for their industries. This will apply to business loans and economic injury disaster loans.  
Financial Crimes Enforcement Network (FinCEN):
Voluntary information sharing programs:

FinCEN expects to release a proposed rule on the safe harbor for the 314(b) voluntary information sharing programs.

Removal of obsolete civil money penalties:

A final rule is expected early next summer to remove obsolete civil money penalties. The civil money penalties are also adjusted annually in a separate regulation. 
NAFCU will provide a more detailed analysis of the rulemaking agendas on the member-only Compliance, Risk & BSA Network.
Related Resources
---
Get daily updates.
Subscribe to NAFCU today.