September 16, 2020
NCUA's Hood, Harper explore CU outlook, priorities post-pandemic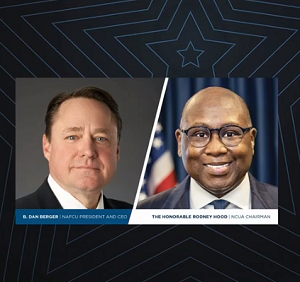 NCUA Chairman Rodney Hood and Board Member Todd Harper provided credit unions with insights into the agency's ongoing efforts to support the industry and its 122 million members amid the coronavirus pandemic, as well as its priorities for moving forward, during NAFCU's Virtual Congressional Caucus Tuesday.
Also Tuesday, the NCUA announced it provided $3.7 million in grants and no-interest loans to 162 low-income credit unions to help them meet members' needs amid the coronavirus pandemic. The grants and loans covered:
rental, mortgage, and utility payment assistance;
loan payment relief;
new products or services; and
covering costs associated with moving credit union operations to remote locations.
Hood, joined by NAFCU President and CEO Dan Berger for a Q&A, stressed that the NCUA is committed to providing credit unions with the relief and flexibility needed to serve member-owners effectively during the crisis while ensuring a healthy and vibrant credit union system.
Berger asked Hood about several hot-topic issues, including the current expected credit loss (CECL) standard and field of membership (FOM) modernization. Hood, who supports a credit union exemption from CECL, said he recently met with new Financial Accounting Standards Board (FASB) Chair Richard Jones to reiterate his concerns about the burden the standard will place on small credit unions; he said Jones is mindful of those costs. Hood said NCUA will continue working to lessen the compliance burden and explore potential technology to help smaller institutions comply. The NCUA recently proposed a three-year phase-in plan for CECL and Congress is considering legislation to provide relief from the standard.
On FOM, Hood applauded the Supreme Court's decision to deny the American Bankers Association's request to hear the lawsuit challenging the 2016 FOM rule and said staff is working to quickly reinstate removed FOMs. He also touted how modernized FOMs will expand financial access to Americans in rural and underserved areas. The NCUA's recently-finalized rule to resolve litigation concerns is set to take effect next month.
Hood and Berger also discussed the important role technology plays in promoting financial equity and inclusion, which Hood has called the "civil rights issue of our generation." Hood said the NCUA is encouraging credit unions to explore fintech partnerships to expand access and noted the NCUA's own implementation of tech to reduce examination burdens.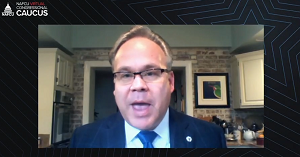 During Harper's remarks, he also stressed the importance of financial inclusion and diversity to address social injustice and racism. He called on credit unions to take the NCUA's voluntary Diversity Self-Assessment to better understand the industry's progress toward achieving a more equitable financial system. He also said the NCUA is taking lessons learned from its implementation of virtual exams during the pandemic to fine-tune the process and allow more of the examination to be conducted offsite.
NAFCU continues to support the NCUA's efforts to move toward a virtual exam through its new MERIT system, which the agency plans to fully rollout in the second half of 2021.
Harper also detailed the state of the credit union industry, noting that as the economy and labor market continue to see negative impacts from the coronavirus pandemic, the NCUA is focused on the safety of the National Share Insurance Fund (NCUSIF).
He added that the agency is monitoring sectors served by credit unions that have been heavily impacted by the pandemic, such as travel and hospitality, as well as prioritizing supervision on credit unions that have higher risk concentrations in areas like commercial loans.
He touted the NCUA's and Congress' efforts to provide relief to credit unions amid the pandemic, including enhancements to the Central Liquidity Facility (CLF) and encouraged all credit unions to join the facility to help assuage liquidity concerns that could arise.
For those Caucus attendees who weren't able to catch all sessions live, on-demand recordings will be available for 14 days after airing. Recaps of other sessions from the two-day event are available in NAFCU Today and highlights can be found on Twitter with #NAFCUCaucus.
Get daily updates.
Subscribe to NAFCU today.