April 24, 2020
PPP gets more funds as Trump signs package into law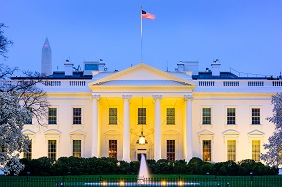 President Donald Trump today signed into law legislation to provide the Small Business Administration's (SBA) paycheck protection program (PPP) with more than $300 billion in additional funds. In a win for credit unions, a portion of the funds have been set aside for smaller lenders to help them serve small businesses in their communities.
The Office of Management and Budget will next make the PPP funds available to the SBA; the SBA has yet to officially announce when it will re-start approving loan applications, but Senate Small Business Committee Chairman Marco Rubio, R-Fla., indicated the program will reopen Monday.
"NAFCU thanks President Trump for signing legislation that will deliver additional funding to the SBA's payment protection program to provide needed resources to American small businesses and local communities," said NAFCU President and CEO Dan Berger. "With many pending SBA loan applications, credit unions will now be able to distribute additional funds to their small business members in need of assistance.
"Credit unions will continue to put their members first throughout the coronavirus pandemic, and NAFCU looks forward to working with the Trump Administration and Congress on future coronavirus relief measures."
The package provides:
$250 billion in new funding for the PPP;
$30 billion of additional funding for the PPP set aside for smaller lenders (including credit unions) with less than $10 billion in assets to help them serve smaller businesses in their communities;
$30 billion of additional PPP funding reserved for lenders (including credit unions) with assets between $10 billion and $50 billion; and
additional funding for economic injury disaster loans and grants.
The deal also includes additional funding for hospitals and coronavirus testing.
The $349 billion originally appropriated for the program was depleted last week. Since the launch of the program, NAFCU has been leading the way to ensure credit unions have all the resources needed to effectively participate in the program, aggressively lobbying Congress throughout negotiations and requesting that a portion of additional funds be set aside for credit unions to be able to meet their members' needs.
Ahead of the House vote Thursday, the House Small Business Committee held a hearing to discuss the PPP's impact on small businesses. During the hearing, several committee members noted the important role credit unions have played with the PPP. NAFCU sent a letter to the committee in conjunction with the hearing expressing support for ensuring the PPP has additional funding and urging additional set asides in future PPP funding efforts to ensure that credit unions can meet their members' needs.
In addition, the SBA released updated FAQs Thursday that include a question (No. 31) asking borrowers to assess their economic need for a PPP loan. Although they met qualifications to apply for loans, several big companies came under fire for receiving loans through the program.
NAFCU continues to work closely with the SBA to ensure credit unions have the resources and guidance needed to provide these loans to members. The association last week asked the SBA to provide more guidance related to loan forgiveness provisions of the program to clarify when credit unions can begin accepting applications for forgiveness.
Stay tuned to NAFCU Today and follow the association on Twitter, LinkedIn, Facebook, and Instagram for up to the minute information. Access all NAFCU's coronavirus resources here, including its FAQs on the PPP.
Related Resources
Add to Calendar 2023-11-30 09:00:00 2023-11-30 09:00:00 Safeguarding Credit Unions with Threat Intelligence Listen On: Key Takeaways: [1:01] What is threat intelligence, and why is it important to CUs? [2:14] What are threat intelligence feeds, and what role do they play in strengthening CUs? [4:41] Leveraging threat feeds and integrating intelligence into tools is crucial. [6:35] Learn what threat CUs should be most concerned about. [7:39] Phishing is ever-evolving, and user awareness is critical. [10:43] Learn how Defense Storm uses feeds to protect its customers. [13:28] Threat intelligence is not as complicated as some think; initiation can be easy through Slack, discussions, and a reporting culture. Web NAFCU digital@nafcu.org America/New_York public
preferred partner
DefenseStorm
Podcast
Consumer Lending
Blog Post
Add to Calendar 2023-11-28 09:00:00 2023-11-28 09:00:00 Growing Creatively & Innovatively in 2024 Listen On: Key Takeaways: [0:58] What can credit unions do to best prepare themselves for 2024? [2:12] Although he sees a glimmer of hope, Jack points out that the liquidity crisis and slow prepayment speeds hamper rapid recovery. [5:22] We discuss how credit unions seek low loan growth through member-centric strategies such as second mortgages and home improvement lending. [7:34] Credit unions are leveraging advancing technology for member-focused engagement. [9:31] How will technology continue to evolve and affect credit unions? [11:43] What role does AI play in innovative growth? [14:14] Credit unions adopt technology for efficiency, enabling staff to focus on personalized member interactions, especially with younger generations. [17:14] Closing thoughts, emphasizing competition against banks and fintech for younger generations. Web NAFCU digital@nafcu.org America/New_York public
Strategy & Growth, Consumer Lending
preferred partner
Allied Solutions
Podcast
---
Get daily updates.
Subscribe to NAFCU today.