May 23, 2018
S. 2155 passes House, on way to president following NAFCU, CU advocacy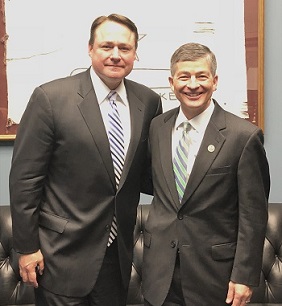 After years of NAFCU advocacy and credit union grassroots efforts, the House yesterday passed the NAFCU-backed Economic Growth, Regulatory Relief and Consumer Protection Act (S. 2155). Immediately following the bill's passage, NAFCU President and CEO Dan Berger sent a letter thanking President Donald Trump for his leadership on helping Main Street financial institutions, and urging him to sign the bill. In addition, Berger personally contacted White House staff again to thank them for their dedication to regulatory relief efforts and for working with NAFCU.
Trump is expected to sign S. 2155 into law.
"The passage of this bill is not just months in the making, but years, as our industry has been fighting regulatory burden since the implementation of the Dodd Frank Act. NAFCU and its members are incredibly appreciative that Congress recognized it was time to tackle one of the greatest challenges facing the credit union industry – unnecessary, burdensome regulations," said Berger. "We thank [Senate Banking Committee] Chairman [Mike] Crapo, the Democratic and Republican cosponsors of this bill, and members of the Senate for crafting bipartisan legislation, and we thank [House Financial Services Committee] Chairman [Jeb] Hensarling and representatives on both sides of the aisle who voted in favor of it.
"The regulatory relief contained in this bill is a great step forward, but there remain a series of initiatives beneficial to our nation's Main Street and small financial institutions that NAFCU will continue to pursue. We look forward to continuing our advocacy efforts with Congress, as the House and Senate have indicated a willingness to tackle more regulatory relief provisions for credit unions," Berger added.
S. 2155 includes various credit union regulatory relief measures related to member business lending and the Home Mortgage Disclosure Act. More details on the NAFCU-supported provisions of the bill can be found here.
NAFCU has advocated for the bill's passage since it was introduced by Crapo, R-Idaho, and several Democratic members of the Senate Banking Committee in November, and also launched a grassroots campaign urging credit unions to contact their lawmakers in support of it.
Berger recently outlined a number of top legislative items still pending before Congress – risk-based capital reform, data and cybersecurity standards, field of membership reforms, and lawsuit abuse under the Americans with Disabilities Act – and asked leaders in the House and Senate to work with the association to address these issues and bring credit unions much-needed regulatory relief.
Related Resources
---
Get daily updates.
Subscribe to NAFCU today.