April 12, 2023
SBA finalizes rule to increase 7(a), 504 participation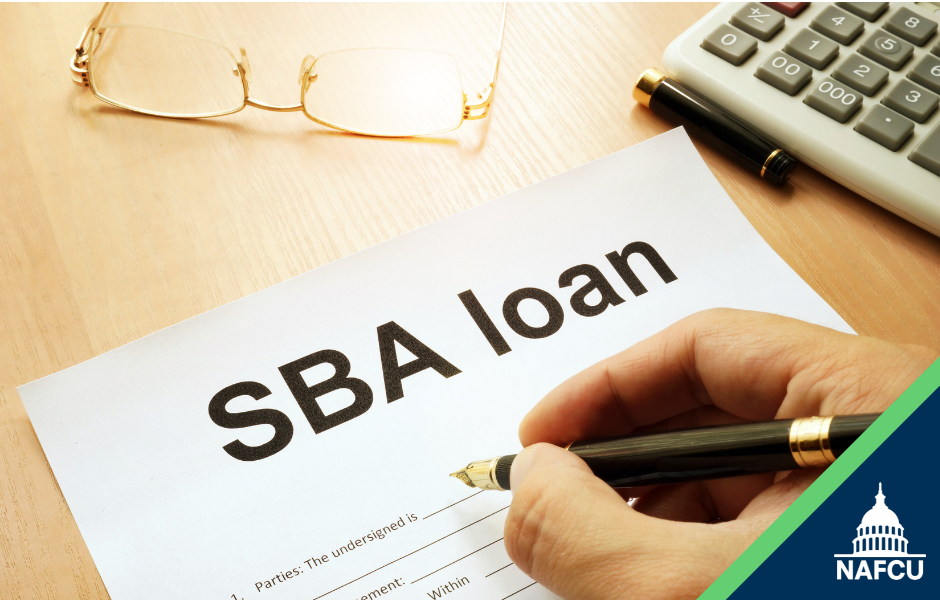 The Small Business Administration (SBA) issued its final rule to change regulations governing SBA's 7(a) and 504 Loan Programs related to lending criteria, loan conditions, affiliation standards, and more. The SBA noted these changes are "to encourage and facilitate more lenders to make small dollar loans."
While NAFCU offered support for provisions of the proposed rule that would reduce costs and burdens on credit union SBA lenders, the association raised concerns about loosening guardrails for non-depository lenders that lack a prudential regulator – potentially increasing risks to the loan programs and creating an uneven playing field between credit unions and fintechs. NAFCU asked the agency to pause this and another related rulemaking on Small Business Lending Companies (SBLCs) to better understand the rules' separate and collective impacts. The SBA responded to these concerns by noting that SBA Supervised Lenders such as SBLCs that do not make non-SBA guaranteed commercial loans will need to submit their credit policies, including credit scoring models, for review by SBA prior to approval to participate in the program.
The final rule includes provisions, among others, to:
require lenders to underwrite SBA loans using the same credit analysis processes and procedures used for their similarly sized, non-SBA guaranteed commercial loans;

increase the threshold for 7(a) and 504 loans requiring hazard insurance on collateral to loans greater than $500,000 – a significant increase from the proposed rule threshold of $150,000;

allow borrowers to use 7(a) loan proceeds to purchase a portion of a business or an entire business, which was previously prohibited; and

provide the Director of the Office of Financial Assistance with the authority to delegate decision making related to reconsideration after denial of a loan application or loan modification to designees, and also allows the SBA Administrator to make the final agency decision on reconsideration.
The final rule takes effect May 11. NAFCU will continue to engage the SBA to ensure the safety and soundness of its business loan programs. 
Related Resources
Add to Calendar 2023-11-30 09:00:00 2023-11-30 09:00:00 Safeguarding Credit Unions with Threat Intelligence Listen On: Key Takeaways: [1:01] What is threat intelligence, and why is it important to CUs? [2:14] What are threat intelligence feeds, and what role do they play in strengthening CUs? [4:41] Leveraging threat feeds and integrating intelligence into tools is crucial. [6:35] Learn what threat CUs should be most concerned about. [7:39] Phishing is ever-evolving, and user awareness is critical. [10:43] Learn how Defense Storm uses feeds to protect its customers. [13:28] Threat intelligence is not as complicated as some think; initiation can be easy through Slack, discussions, and a reporting culture. Web NAFCU digital@nafcu.org America/New_York public
preferred partner
DefenseStorm
Podcast
Consumer Lending
Blog Post
Add to Calendar 2023-11-28 09:00:00 2023-11-28 09:00:00 Growing Creatively & Innovatively in 2024 Listen On: Key Takeaways: [0:58] What can credit unions do to best prepare themselves for 2024? [2:12] Although he sees a glimmer of hope, Jack points out that the liquidity crisis and slow prepayment speeds hamper rapid recovery. [5:22] We discuss how credit unions seek low loan growth through member-centric strategies such as second mortgages and home improvement lending. [7:34] Credit unions are leveraging advancing technology for member-focused engagement. [9:31] How will technology continue to evolve and affect credit unions? [11:43] What role does AI play in innovative growth? [14:14] Credit unions adopt technology for efficiency, enabling staff to focus on personalized member interactions, especially with younger generations. [17:14] Closing thoughts, emphasizing competition against banks and fintech for younger generations. Web NAFCU digital@nafcu.org America/New_York public
Strategy & Growth, Consumer Lending
preferred partner
Allied Solutions
Podcast
---
Get daily updates.
Subscribe to NAFCU today.