October 10, 2019
Thaler to CUs: Keep up engagement with lawmakers on NDAA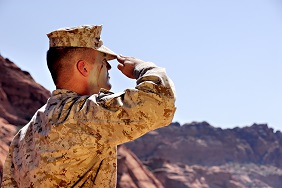 As lawmakers prepare to return to Washington, NAFCU's Brad Thaler updated member credit unions on efforts to reconcile the final version of the FY2020 National Defense Authorization Act (NDAA). NAFCU's Legislative Affairs team remains active on Capitol Hill to ensure an industry-opposed provision that would allow big banks to be treated the same as a military installation's local not-for-profit credit union is not included in the final version of the bill.
"We have been told by those involved with the conference that members hearing from credit unions back home helps our efforts to defend the credit union lease provision," wrote Thaler, NAFCU's vice president of legislative affairs, in an email sent yesterday. "We must keep up this good work. If you haven't reached out to conferees, or even if you have, now is the time that they need to hear from you on this issue."
View the full conference committee and learn more about what the section – included in the Senate-passed version of the bill – would mean for credit unions. 
Thaler also encouraged credit unions to take action by visiting NAFCU's Grassroots Action Center. The centralized advocacy platform provides credit unions with contact information to contact their elected representatives and to set up local meetings, background information on the important issues and the tools needed to take action.
NAFCU will continue to educate lawmakers on the differences between credit unions and banks, and update members as the bill moves through the legislative process.
Join the conversation on Twitter using the hashtag #FY20NDAA.
Related Resources
Add to Calendar 2023-02-03 09:00:00 2023-02-03 09:00:00 Winning the Battle for Deposits Listen On: Key Takeaways: [01:28] An overview of the current macro environment. [02:55] Traditional tactics used by credit unions in the battle for deposits and why these are no longer enough. [07:39] Rife competition in the credit union space and how to stand out from the crowd.  [10:23] The benefits credit unions can experience by reducing the cognitive load of their members [18:17] Advantages and disadvantages of PFM tools in the battle for deposits.  [20:14] What credit unions should demand of their vendors. Web NAFCU digital@nafcu.org America/New_York public
preferred partner
Personetics
Podcast
Add to Calendar 2023-02-02 14:00:00 2023-02-02 14:00:00 How to Leverage Loan Participations in a Low Liquidity Environment About The Webinar As credit unions continue to face challenges with liquidity starting off 2023, strategic pricing and long-term alternative funding strategies can play a key role in allowing credit unions to serve more members and successfully manage the balance sheet. Loan participations can play a key role helping credit unions sustainably grow their originations, provide the marketplace access to quality, short duration investments, and successfully grow market share. Please join Amy Henderson, Chief Consumer Services Officer at Greenstate CU, Devin Hughes, VP of Business Development at LendKey, and Michael Adams, VP of Lender Development at Open Lending for a panel discussion to learn how credit unions can strategically serve more members, effectively price for loans, and successfully manage their balance sheet. Attendees will: Hear from Credit Union and FinTech experts Learn about loan pricing strategies and participation strategies Glean best practices from industry leaders who have been executing on these innovative strategies that better position the balance sheet for long term growth Find out how credit unions can start the process to identify trusted partners to help them execute on this strategy and serve more members Register for the Webinar Web NAFCU digital@nafcu.org America/New_York public
preferred partner
Open Lending
Webinar
Management, Relationships, Consumer Lending
preferred partner
Wolters Kluwer
Blog Post
---
Get daily updates.
Subscribe to NAFCU today.