January 30, 2020
Thaler urges lawmakers to allow CUs to serve underserved areas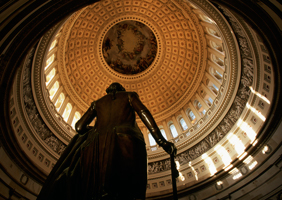 Ahead of the House Financial Services Task Force on Financial Technology hearing to discuss the rise of mobile payments, NAFCU Vice President of Legislative Affairs Brad Thaler urged the task force "to support efforts to allow all types of credit unions to add underserved areas to their fields of membership." NAFCU, as the credit union industry's Washington Watchdog, is a leader in calling for a level playing field among fintech companies and financial institutions, and for a safe, secure faster payments system.
"Doing so would help provide more payment options to consumers who do not have access to them now," wrote Thaler. "Credit unions have a number of programs designed to help those who need basic financial services options, such as no minimum checking and over 4,000 credit unions offer free checking."
The 2019 NAFCU Report on Credit Unions, available online, reported that as of March 2019, there were 526 minority-designated credit unions to just 148 bank designees. In addition, a recently released Fed study on payments found that "check payments continued their long-run decline" as the number of automated clearinghouse debit transfers exceeded the number of check payments for the first time in 2018.
In the letter, Thaler also highlighted the benefits of developing a national data security standard to ensure the safety of consumers' personal information when using mobile payment systems.
"With the constant data breaches that continue to affect Americans (including a just announced Wawa breach that may impact 30 million), a national data security standard could alleviate some of the concerns consumers have with using mobile payments, including a debit or credit card," he wrote.
Additionally, Thaler shared the association's concerns regarding the ability of merchants to discriminate against the types of payments they accept, which could result in limitations to consumer choice and options.   He also cited the failure of the Durbin amendment on debit interchange and called for its repeal, reminding lawmakers that merchants promised to pass savings to consumers, but pocketed profits instead while prices rose.
NAFCU's 2020 priorities include advocating for a fair and innovative market through the promotion of innovation and establishing regulatory standards for fintech and data security. The association has previously urged lawmakers to consider a national data security standard for institutions that collect and store consumer information and has myriad resources available to ensure credit unions can effectively identify and address cyber security concerns. 
NAFCU will continue to work closely with lawmakers and the Fed on payments issues, and monitor today's hearings for any mentions of credit union issues, including payments and data security.
Related Resources
Privacy , Privacy
Blog Post
Privacy , Privacy
Blog Post
---
Get daily updates.
Subscribe to NAFCU today.