October 09, 2019
Treasury proposes rule to smooth LIBOR transition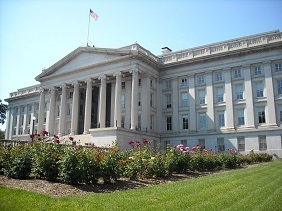 The Treasury Department has proposed a rule intended to smooth the transition away from the London Interbank Offered Rate (LIBOR) by addressing potential tax consequences. The proposal comes as a number of Federal Reserve members have warned about financial stability risks due to the transition.
The Secured Overnight Financing Rate (SOFR) was identified as the alternative to LIBOR by the Alternative Reference Rate Committee. As institutions transition from LIBOR to SOFR, the Treasury's rule would:
clarify that the use of a new reference rate would

not result in the realization of income, deduction, gain, or loss for federal income tax purposes under Section 1001 of the Treasury's regulations, so long as the modification does not change the fair market value of the debt instrument or non-debt contract;
create a safe harbor for this "value equivalence requirement" for alterations to a new rate that result in a change within 25 basis points of the historic average of the rate that it replaces; and
create a second safe harbor if the parties use the debt instrument or non-debt contract negotiate to determine that the fair market value of the altered contract is substantially equivalent to the original contract.
The proposal will be open for a 45-day comment period.
NAFCU will continue to keep credit unions updated on the issue and informed of resources to help with the transition. NAFCU Chief Economist and Vice President of Research Curt Long – in the newest edition of The NAFCU Journal – wrote an article focused on what credit unions should know about the LIBOR transition, including the adoption of the SOFR.
Related Resources
Mortgage Reform - Escrow , Home-Secured Lending
Blog Post
Home-Secured Lending
Blog Post
NCUA , Consumer Lending Home-Secured Lending
Blog Post
---
Get daily updates.
Subscribe to NAFCU today.