December 28, 2020
This week: Congress set to override NDAA veto, tackle stimulus checks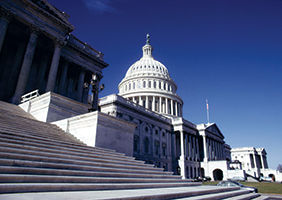 President Donald Trump last week vetoed the fiscal year 2021 National Defense Authorization Act (NDAA); however, the House today has scheduled a vote to override the veto, and the Senate is expected to take a vote to override it as soon as tomorrow. In addition, Trump signed the Phase 4 coronavirus relief and FY2021 federal government omnibus measure Sunday night, but has called on Congress to provide Americans with more money through economic impact payments (EIPs).
The enactment of the relief and funding package averted a federal government shutdown, which would have begun at midnight tonight had the measure not been signed. Per the president's urging, the House and Senate this week are expected to vote on a separate measure to increase the EIPs to adults to $2,000; the current bill provides up to $600 for individuals depending on income level. The House last week attempted to pass by unanimous consent an amendment to the package to meet the president's request, but the measure failed.
The disbursement of EIPs will likely be delayed to at least next week as Congress works to address this issue and the IRS and Treasury ready the payments to go out.
The Phase 4 coronavirus relief and funding omnibus package included several NAFCU-sought provisions that will provide additional support for credit unions and their 123 million members, including extending troubled debt restructuring (TDR) flexibilities and access to the NCUA's Central Liquidity Facility, as well as making several improvements to the paycheck protection program (PPP) and its forgiveness process.
Ahead of its passage, NAFCU sent a letter to congressional leadership outlining provisions of the bill that will benefit credit unions and flagging some concerns that Congress should consider in future relief efforts.
The final NDAA included several wins for credit unions, including added language to make Bank Secrecy Act (BSA)/anti-money laundering (AML) reforms and the removal of a provision that would have made changes to on-base leases sought by the banking industry. NAFCU had urged the House and Senate to swiftly pass the legislation after the conference committee released its report. It passed both chambers with large bipartisan margins.
NAFCU will continue to monitor efforts on Capitol Hill related to these critical pieces of legislation.
Related Resources
---
Get daily updates.
Subscribe to NAFCU today.