January 30, 2023
This week: NAFCU monitors CUBMA, FOMC meeting, CFPB SBREFA panel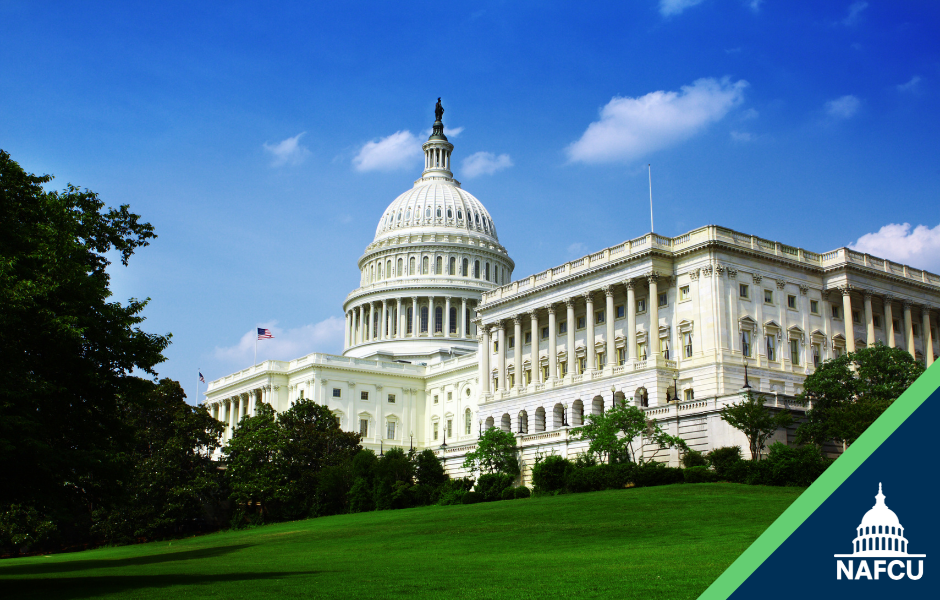 This week, NAFCU is tracking House action on the Credit Union Board Modernization Act (CUBMA) and will monitor the Federal Open Market Committee's (FOMC) first meeting of 2023, which begins tomorrow and ends Wednesday. The association will also monitor the CFPB's path towards implementing section 1033 of the Dodd-Frank Act as it proceeds with a required review of small business impact under the Small Business Regulatory Enforcement Fairness Act (SBREFA).
CUBMA (H.R. 582) is set to be considered by the House this evening under suspension of the rules. Reps. Juan Vargas, D-Calif., and Bill Huizenga, R-Mich., last week reintroduced the bill that would revise language in the Federal Credit Union Act related to the requirement that credit union boards meet once a month.
The House passed CUBMA last year but it wasn't advanced by the Senate, requiring reintroduction with the start of a new congressional session. NAFCU Senior Director of Legislative Affairs Chad Adams, during NAFCU's Q4 Member Webinar in December, predicted CUBMA would be taken up early because of the bipartisan support and groundwork NAFCU helped build.
NAFCU last week detailed some concerns with the CFPB's outline of proposals to implement section 1033 of the Dodd-Frank Act – related consumer access to their financial data – calling on the bureau to ensure its implementation avoids "unfairly burden[ing] credit unions with enormous compliance costs and ultimately distort[ing] the financial sector's competitive landscape." 
Also happening this week:
today, comments are due to NAFCU in response to the Financial Crimes Enforcement Network's proposed rule to implement the regulations that will govern access to and safeguards of beneficial ownership information – view the association's Regulatory Alert; and
Wednesday, the association will host the first webinar in a series on preparing for the Federal Reserve's FedNow service, which is expected to be available mid-2023.
Stay tuned to NAFCU Today for the latest out of Washington. 
Related Resources
Add to Calendar 2023-11-30 09:00:00 2023-11-30 09:00:00 Safeguarding Credit Unions with Threat Intelligence Listen On: Key Takeaways: [1:01] What is threat intelligence, and why is it important to CUs? [2:14] What are threat intelligence feeds, and what role do they play in strengthening CUs? [4:41] Leveraging threat feeds and integrating intelligence into tools is crucial. [6:35] Learn what threat CUs should be most concerned about. [7:39] Phishing is ever-evolving, and user awareness is critical. [10:43] Learn how Defense Storm uses feeds to protect its customers. [13:28] Threat intelligence is not as complicated as some think; initiation can be easy through Slack, discussions, and a reporting culture. Web NAFCU digital@nafcu.org America/New_York public
preferred partner
DefenseStorm
Podcast
Consumer Lending
Blog Post
Add to Calendar 2023-11-28 09:00:00 2023-11-28 09:00:00 Growing Creatively & Innovatively in 2024 Listen On: Key Takeaways: [0:58] What can credit unions do to best prepare themselves for 2024? [2:12] Although he sees a glimmer of hope, Jack points out that the liquidity crisis and slow prepayment speeds hamper rapid recovery. [5:22] We discuss how credit unions seek low loan growth through member-centric strategies such as second mortgages and home improvement lending. [7:34] Credit unions are leveraging advancing technology for member-focused engagement. [9:31] How will technology continue to evolve and affect credit unions? [11:43] What role does AI play in innovative growth? [14:14] Credit unions adopt technology for efficiency, enabling staff to focus on personalized member interactions, especially with younger generations. [17:14] Closing thoughts, emphasizing competition against banks and fintech for younger generations. Web NAFCU digital@nafcu.org America/New_York public
Strategy & Growth, Consumer Lending
preferred partner
Allied Solutions
Podcast
---
Get daily updates.
Subscribe to NAFCU today.