July 09, 2018
This week: NAFCU watching Congress for NDAA developments, reg relief, Mnuchin comments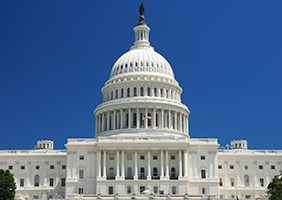 The House and Senate are both in session this week and NAFCU remains engaged with lawmakers as the chambers take steps to move to a conference committee to hash out details of the 2019 National Defense Authorization Act (NDAA). NAFCU is leading the push to include language to delay the NCUA's risk-based capital (RBC) rule in the final legislation.
The House in June passed the Foreign Investment Risk Review Modernization Act of 2018 (H.R. 5841), which included a two-year delay of the RBC rule. The Senate version of this legislation was folded into its NDAA – a move urged by U.S. Defense Secretary Jim Mattis – and did not include the RBC delay. House and Senate leadership are expected to formalize members of the conference committee this week who will work out the differences between the two NDAA bills; NAFCU will continue to be a leader on the issue to ensure the RBC-delay provision is included in the final bill.
In addition, NAFCU will be monitoring a provision included in the House NDAA – but not the Senate's – dealing with land leases on military bases for banks. NAFCU recently clarified that this provision does not affect credit unions' nominal leases under the Federal Credit Union Act and believes there is a strong likelihood the House provision will be altered or dropped during conference consideration. The association has pledged to fight to ensure that the ability for credit unions to get nominal leases is not disadvantaged during consideration of the NDAA.
NAFCU will also be watching this week on Capitol Hill:
Also happening this week:
Related Resources
---
Get daily updates.
Subscribe to NAFCU today.