April 16, 2018
This week: NCUA considers rules offering reg relief; Congress discusses illegal robocalls, financial system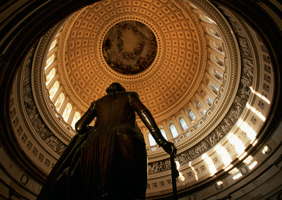 Both the House and Senate are in session this week. Committees in each chamber will hear testimony from Federal Reserve Vice Chairman Randal Quarles on the U.S. financial system, and House and Senate committees will hold hearings on stopping abusive robocalls. The NCUA Board meets Thursday and will consider two rules that would offer credit unions greater flexibility in capital planning and advertising.
This week is also National Volunteer Week. NAFCU President and CEO Dan Berger recognized credit union volunteers' efforts to support the industry in a message today to credit union leaders and volunteers.
Quarles will testify before the House Financial Services Committee tomorrow and before the Senate Banking Committee on Thursday. The hearings are part of the Federal Reserve's semi-annual testimony to Congress, and Quarles will provide an update of the Fed's supervision and regulation of the U.S. financial system.
On Wednesday, the Senate Commerce Committee will discuss efforts to stop abusive robocalls with representatives from the Federal Trade Commission (FTC), Federal Communications Commission (FCC), U.S. Chamber of Commerce and others. A House Energy and Commerce Subcommittee will also hold a hearing Thursday to discuss combating illegal robocalls. NAFCU has actively engaged with the FCC on this issue, supporting its efforts to eliminate unlawful robocalls. NAFCU has also urged the FCC to provide clear guidance on the Telephone Consumer Protection Act (TCPA), as many credit unions have ceased important communications with members about their accounts over fear of inadvertently violating the rule.
The NCUA Board is slated to meet Thursday at 10 a.m. Eastern. On the board's agenda are two final rules: one on capital planning and stress testing, and another on advertising provisions. NAFCU has previously written in support of both of these efforts, as they would provide credit unions greater flexibility, but also recommended additional ways for the NCUA to further reduce the regulatory burden.
Other congressional hearings of note this week:
Also happening this week:
NAFCU's CEOs and Senior Executives Conference begins runs Wednesday through Friday in Napa, Calif. Follow news from the conference on Twitter with #CreditUnionExecs.
Wednesday, NAFCU Director of Regulatory Affairs Alexander Monterrubio will participate in an exercise at the Treasury Department on sheltered harbor mid-sized bank restoration.
Thursday, NAFCU Regulatory Affairs Counsel Andrew Morris will attend a Financial Regulatory Forum that will cover bank regulation and supervision, market regulators, consumer protection agencies, crisis management and fintech.
Related Resources
Add to Calendar 2019-10-15 14:00:00 2019-10-15 14:00:00 Connect to Millennials Through Digital Education Lending About The Webinar Learn how hundreds of credit unions are using digital education lending to connect with Millennial borrowers for a potential lifetime of borrowing. Credit unions of all sizes partner with LendKey to increase millennial memberships, grow loan-to-share, boost yields, and enter digital lending in months--not years. Learn about LendKey while gaining valuable insights into the modern credit journey, current Millennial borrowing trends, and more. You will come away with valuable insights and strategy about: The cross-sell market opportunity for education lending How hundreds of credit unions are able to compete with rising marketplace lenders Liquidity options including modern participation loans and full-balance sheet options Learn more about this Innovation Award Winner, and see how you can quickly and cost-effectively grow your Millennial memberships.  Watch the Webinar On-Demand Web NAFCU digital@nafcu.org America/New_York public
webinar
preferred partner
LendKey
---
Get daily updates.
Subscribe to NAFCU today.