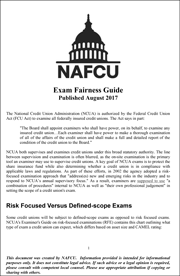 The National Credit Union Administration (NCUA) is authorized by the Federal Credit Union Act (FCU Act) to examine all federally insured credit unions. Exams are one of the agency's key tools for supervising credit unions and NCUA has many tools at its disposal during this process. Exams can have a significant impact on a credit union which can sometimes lead to disagreements between examiners and credit unions.
This guide walks through exam basics such as the goals of an NCUA exam, risk-focused versus defined-scope exams, frequency of exams and extended exam cycles. The guide also has helpful tips for navigating exam challenges, the appeals process and achieving fair exam outcomes.
Please fill in your information below to download NAFCU's Exam Fairness Guide.