Keynote: How to Navigate a Post COVID-19 Reality
---
KEYNOTE UNDERWRITTEN BY  

---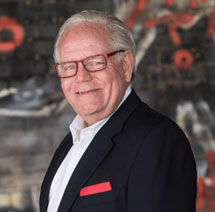 Jim Marous
Co-Publisher, The Financial Brand; Owner and Publisher, Digital Banking Report
Our industry has never been impacted as instantly and dramatically as when the coronavirus pandemic hit. Members were forced to use digital banking for transactions and to manage relationships. Credit unions moved to a work-from-home environment. And the importance of serving your community became paramount. What will the 'new reality' in financial services be?

Join Jim Marous, consistently rated as one of the top 5 most influential people in banking, as he discusses the priorities for credit unions in a post COVID-19 world:
How should you serve the newly digital consumer?
What has remote work taught us about our teams?
How do you serve our communities better during a crisis?
Take a listen to the interview below to get a preview of Jim's keynote in which he will talk about how organizations need to pivot to serve a much more digitally adept consumer.

Interview transcript available below. Don't see the play button? Download the audio file.
About Jim Marous
Jim Marous is the co-publisher of The Financial Brand, and owner and publisher of the Digital Banking Report. He's been featured on CNBC, CNN, Forbes, The Wall Street Journal, New York Times, The Financial Times, The Economist, and more. Jim has also advised the White House on banking policy and is a contributor for Forbes and the Breaking Banks radio show. He's been consistently rated as one of the top 5 most influential people in banking.
Anthony Demangone: I am super pumped to have with us today Jim Marous who's going to be the keynote at NAFCU's State of the Industry virtual event on June 25. Jim, thanks for being here.

Jim Marous: Hey, I'm glad to be on.

AD: I know you know who Jim is. He doesn't like to self-promote, but I'll do it for him. He's co-publisher of The Financial Brand and if you've seen that or read it, it's fantastic. He's the publisher of the Digital Banking Report. He's advised the White House on banking policy and is consistently rated as one of the top-five most influential people in banking.

And so, with the COVID-19 crisis and the economy kind of in the doldrums, we thought it would be great to have Jim talk about what this crisis has done and what credit unions need to think about moving out of it.

Jim, I know that you often talk about the digitally aware consumer and how financial institutions need to pivot. Why does this matter now more than ever?

JM: Well, we as a country and as a world really have just had what is referred to as a heart attack moment. We've talked about needing to be digital for years now, very much like when you go to the doctor and the doctor tells you that you need to get on a diet and do more exercise. And, all of the sudden, in a matter of truly an instant, our industry has been put on warning and it says, oh by the way, the digital moment is now. We didn't have any options.

You can go to a drive-thru teller in some organizations. Some branches internationally are open. But, for the most part, we pushed consumers to be digital consumers in a nanosecond. Now, that's an opportunity. But, it did make organizations aware of their weaknesses: not only from a standpoint of where their employees work and how well they engage with each other, but how the consumer could engage with financial institutions. And if you were what I call "faking digital," you became very aware of the weaknesses of your organization in a digital environment.

I honestly believe that we have educated the consumer, not just us, but every industry from grocery delivery to takeout foods and everything else, into how to handle your life more digitally. We probably went through ten years of education in a matter of a couple weeks. And I think what the opportunity is right now is tremendous for the financial services industry to move up to the plate and say, you know what, we are going to become digital organizations with a human aspect to that digitalization.

AD: That is fantastic. I have heard other people say that. In the last four months we have made seven years of progress on some of the projects that have been languishing, so I can't wait to hear your comments about that.

One of the things I like about your presentation and your style of writing is that you pose questions to people. It's not just information. You ask people to go back and think about certain questions. So what are some important questions that attendees are going to take back from your presentation on the 25th?

JM: First and foremost, and this is really important all the way across the board, is that being shut down because of COVID has given us an opportunity as individuals and organizations to reassess where we are and where we're going and where we need to be.

So, the real question that people are going to go back to their organizations with is, number one: are we prepared for the digital future? Not fake prepared. Are we really a digital organization? That goes beyond a great mobile app. That really goes into the foundation and says: how many clicks for us to get from introduction to the consumer to account opening? Is it more than eight? Does it take more than three minutes? Because if it takes that long, you're not really digital.

Look at American Express. To open a credit card, they ask for three pieces of information: your name, your social security number, and  your cell phone number and your cell phone number is only being asked so they can get back to you and confirm that you have made an attempt by text. They only need your name and social security number because they can collect everything else. Now, they may ask for additional information, but for 80% of the people, that's enough for them to open an account for you. How many clicks does it take for us to open up a checking account, a savings account? If a person already has an account, do we ask for the same information again? Are we truly engaging with people digitally?

Now, beyond that, as individuals, are we ready to work for a digital organization? Or are we steeped in the tradition of a branch-based organization that looked at everything as a face-to-face interaction? The world has changed so we really have to look at ourselves and say, are we learning what we need to learn to be digital employees that will learn the things that are necessary to move forward?

We've gone through this before. We went through this when we moved from an agricultural to a manufacturing economy. We went through it when we went from a manufacturing economy to a robotic economy. And the reality is, a lot of people at each one of these stages lost their jobs because of not being prepared for the next stage. Well, we're moving to a digital economy, one that's going to be augmented by digital technology, but that's still going to keep a human aspect.

So I ask every person who's going to be at the event: are you ready to move forward in a digital world? Are you individually prepared to disrupt yourself? In much the same was as I brought up in the beginning, as a doctor would say that you need go get on a new health diet and do some workouts, well, we can't do it for a short period. Well, this has got to be a behavioral change, a behavioral change for the individual and a behavioral change for the organization.

AD: Jim, that's fantastic. I was going to ask you what attendees were going to walk away with, but holy cow! Those questions are more than enough.

JM: You know, interestingly, the reality is that what they're going to be taking away is a call to action. Prosperity was only three months ago. Our organizations were flying high, so I'm going to keep referring to the doctor point. Why do anything if there's no real pain? We were all doing very well: banks, credit unions, investment firms, insurance companies. And all of the sudden we hit a wall, a wall that none of us expected. So, the reality is, right now we've got to act under the intensity and the focus to say, number one: do we offer the right products? Number two: do we deliver them the right way? And most important, number three: do we have the right employees to take us to the next level? That goes all the way from the board of directors to the teller in the branch. Not to say there's any difference as far as importance. But the reality is every single person in the organization is going to say, am I personally and are we corporately prepared for the future?

AD: Man, I tell you what, good stuff! Final thoughts, Jim, before I let you get back to your day?

JM: I think the one thing we have to remember is, it's scary out there. What we're dealing with actually right now is dual pandemics: a health one and a social one. And I think we have to look upon ourselves and say, you know what, this is not a threat. This is the opportunity of a lifetime: to change ourselves and change our organizations. There's no definite timeline. There's no rule book on how this is going to play out. Many of us don't know when we're actually going to go back to work and what that work is going to look like when we get back.

But we can't look upon this and cower in the corner and say, "oh my gosh, what's going to happen?" We have to take ownership of the opportunity that's presented and say, let's move forward aggressively ‒ as credit unions and as people ‒ for the new future.

AD: Jim, thank you so much. Ladies and gentlemen, Jim Marous, again, the co-publisher of The Financial Brand, advisor to the White House, one of the most influential people in banking. You will get to hear much more from Jim on June 25th at our State of the Union virtual event, getting the data and trends and takeaways. Like Jim was saying, so that in an uncertain future we can build organizations and work forces that excel in those kinds of situations, especially with a focus on the digital.

Jim, thank you so much for today. I really look forward to hearing more from you later this month.

JM: I'm looking forward to it. Thank you very much.