September 18, 2020
5 things to know this week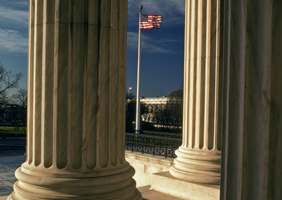 NAFCU's widely-read NAFCU Today is credit union leaders' go-to source for the latest on issues impacting the credit union industry. For those short on time, here's a roundup of this week's top need-to-know news, including NAFCU's efforts to obtain PPP relief, an update on the CFPB's CUAC, and more.
NAFCU, trades urge PPP relief
NAFCU Thursday joined a number of trade associations to urge House and Senate leadership to pass both the House and Senate versions of the Paycheck Protection Small Business Forgiveness Act – S. 4177 and H.R. 7777 – to improve and streamline the paycheck protection program (PPP) forgiveness process.
"Now that the program has ended, small business owners are facing the challenges of reopening local economies in a time of uncertainty, retooling their businesses, and working to protect the health of both customers and employees," wrote the group. "Small businesses across the country are facing the time-consuming and costly process of applying for PPP loan forgiveness."
NAFCU has consistently advocated for credit unions' ability to lend effectively through the program and has worked with the SBA, Treasury, and Congress to obtain additional guidance and relief for lenders through the loan forgiveness processes. For more information on the PPP, access NAFCU's regularly updated FAQs.
CUAC gets update on CFPB taskforce, new members announced
The CFPB's Credit Union Advisory Council (CUAC) met Tuesday and were briefed on the bureau's Taskforce on Consumer Financial Law by CFPB Director Kathy Kraninger.
Kraninger indicated that the taskforce has met with stakeholders and trade groups, as well as held a public hearing and published a request for information as it works to identify areas of improvement.
In a previous letter to the taskforce, NAFCU outlined several areas ripe with opportunities to expand access and alleviate regulatory burdens, including fintech, consumer lending, data security, data collection, and consumer protections.
In addition, the CFPB released new appointments for its advisory boards. Two of the CUAC's newest members are from NAFCU-member credit unions:
Monica Davis, senior vice president risk management, Union Square Credit Union (Wichita Falls, Texas); and
Jose Iregui, vice president of loan servicing and collections, Langley Federal Credit Union (Newport News, Va.).
NAFCU further details GSE capital requirement concerns
The Federal Housing Finance Agency (FHFA) Monday held a public listening session – focused on affordable housing access – to gather feedback on its on its proposed rule to set capital requirements for the government-sponsored enterprises (GSEs).
During the session, NAFCU Senior Regulatory Counsel Elizabeth LaBerge shared additional insights into the association's concerns and shared credit union feedback about the proposed capital requirements.
"As drafted, the re-proposal would likely establish capital levels that exceed the worst-case loss scenarios developed by the Federal Reserve," warned LaBerge. "The potential harms of setting capital levels too high are significant for credit unions and their members."
VA issues guidance on forbearance
The Department of Veterans Affairs (VA) Monday issued guidance on loss mitigation options for borrowers who have entered into forbearance under the CARES Act. Under the new guidance, servicers are permitted to defer forborne payments for borrowers who are able to resume making timely monthly payments. The payments may be deferred to the loan maturity date or until a borrower refinances the loan, transfers the property, or otherwise pays off of the loan, whichever occurs first, without any additional fees or penalties.
The VA advises that when applying this deferment, servicers should not modify the loan term. NAFCU has been working with the VA and Ginnie Mae on loss mitigation options for servicers and will continue to monitor guidance as it becomes available.
Hackers going to hack
The FBI is warning organizations about an increasing number of credential stuffing attacks that have targeted networks and led to breaches and financial losses. According to a report from ZDNet, the FBI last week sent a private security alert to the US financial sector.
Credential stuffing refers to an automated attack where hackers take collections of usernames and passwords that have previously leaked online and try them against accounts at other online services.
In the alert, the FBI highlighted that some of the attacks have been large enough to bring down authentication systems at some financial organization. As a leader in calling for national data security standards, NAFCU has many resources available to ensure credit unions can effectively identify and address cybersecurity concerns. 
Related Resources
Add to Calendar 2020-10-20 14:00:00 2020-10-20 14:00:00 Creative Growth Strategies for COVID-19 and Beyond: Credit Union Panel About the Webinar  In this panel discussion, credit union leaders will introduce strategies that have helped them continue to thrive through the pandemic. Key topics addressed include: Successful lending growth and risk mitigation strategies Digital and account strategies driving member activity and sales Recommended tips for responding to current trends, while planning for the future Watch the Webinar On-Demand Web NAFCU digital@nafcu.org America/New_York public
preferred partner
Allied Solutions
Webinar
Add to Calendar 2020-10-20 14:00:00 2020-10-20 14:00:00 Insurance Issues in the Time of COVID As the COVID-19 health crisis lingers, businesses continue to look to insurance for protection against losses due to revenue loss, cancelled events, government shutdown orders, and other coronavirus-related losses and resulting litigation. Join two Hunton Andrews Kurth insurance coverage attorneys, Sergio F. Oehninger and Geoffrey Fehling, as they discuss the complex issues involving insurance for COVID-19 losses. Attendees will leave this webinar with a better understanding of what policies may provide coverage for losses incurred during and after the COVID-19 pandemic; the importance of reviewing insurance policies to evaluate the adequacy of coverage both before and after a loss arises; and practical tips to navigate tricky areas such as notice, loss submissions and policy renewals. Key Takeaways Discuss the myth of "No coverage for COVID-19" that insurers and traditional media outlets are saying Review policies before a claim arises to be prepared and protected by insurance for the next loss Discuss COVID-19 claims tied to shutdown orders, business closures, loss of use of business facilities and similar suspended operations Register Now For On-Demand AccessRegistration is complimentary, but you must register to attend.One registration gives your entire credit union access to the on-demand recording until October 20, 2021.Already registered? Go to the Online Training Center to view live. Who Should Attend? NAFCU Certified Risk Managers (NCRMs) Chief Operating Officers (COOs) Chief Financial Officers (CFOs) Risk staff Education Credits NCRMs will receive 1.5 CEUs for participating in this webinar. CPA credit information is below; recommended 1.5 CPE credits. CPA Certification Credit Information Reviewer: Josie Collins, Associate Director of Education, NAFCU Learning Objectives: Discuss the myth of "No coverage for COVID-19" that insurers and traditional media outlets are saying. Review policies before a claim arises to be prepared and protected by insurance for the next loss. Discuss COVID-19 claims tied to shutdown orders, business closures, loss of use of business facilities and similar suspended operations.  Program Level: Basic Prerequisites Needed: None Advance Preparation Needed: None Delivery Method: Group Internet-Based Recommended CPE Credits: 1.5 credits Recommended Field of Study: Specialized Knowledge – Technical National Association of Federal Credit Unions (NAFCU) is registered with the National Association of State Boards of Accountancy (NASBA) as a sponsor of continuing professional education on the National Registry of CPE Sponsors. Learn more. About Our Webinars Our webinars are streamed live from NAFCU headquarters near Washington, D.C. Your audio/video feed of the presenters includes presentation slides and downloadable handouts. You can easily submit your questions to the presenters at any time during the live broadcast, with no dialing over the phone! The audio and video stream directly through your computer. Web NAFCU digital@nafcu.org America/New_York public
Credits: NCRM, CPE
Webinar
Add to Calendar 2020-10-20 09:00:00 2020-10-20 09:00:00 Automating Vendor Invoice Auditing to Improve the Bottom Line Listen On: Key Takeaways: [02:04] Now is the most important time to be looking at back-office operations and trying to determine if there are ways to access low hanging fruit and turn that into some costs savings at a time when that asset is precious. [08:43] Automating is almost like a type of insurance going forward because our contracts are living, breathing things and they change, and therefore the invoice changes. It is also a more professional way to handle vendors. [13:06] You release human capital to be used in other places in your back office. If the machine finds an error you also save the money before you pay the invoice.  Web NAFCU digital@nafcu.org America/New_York public
Third Party Relationships, Growth & Retention, Risk Management, Compliance
preferred partner
Strategic Resource Management
Podcast
Strategy, Marketing, Growth & Retention, Customer Engagement
preferred partner
CUNA Mutual Group
Blog Post
---
Get daily updates.
Subscribe to NAFCU today.