February 08, 2019
Barr's AG nomination advances to Senate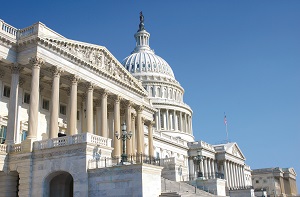 The Senate Judiciary Committee on Thursday advanced the nomination of William Barr to be U.S. Attorney General. He now awaits a confirmation vote by the full Senate. NAFCU has pressed the Department of Justice (DOJ) to provide clarity to credit unions regarding website accessibility standards under the Americans with Disabilities Act (ADA).
Senate Majority Leader Mitch McConnell, R-Ky., said he hopes to hold the confirmation vote as early as next week.
Barr has indicated his awareness of website accessibility concerns related to the ADA. NAFCU has been active on this issue for more than a year and has engaged with the DOJ and Congress to provide guidance. Given mixed court decisions in ADA website accessibility lawsuits, NAFCU recently reiterated its request for the DOJ to provide clarity "to ensure credit unions feel confident in their website offerings."
NAFCU has also flagged for credit unions the compliance risk surrounding marijuana banking. In January 2018, former Attorney General Jeff Sessions rescinded directives that had instructed federal prosecutors to ease marijuana enforcement in states that have legalized the substance. That decision in turn muddied guidance issued by the Financial Crimes Enforcement Network (FinCEN) to clarify Bank Secrecy Act (BSA) expectations for financial institutions providing services to marijuana-related businesses.
During his confirmation hearing before the committee, Barr indicated he would not pursue action against marijuana businesses that rely on the FinCEN's previously issued guidance on the issue. FinCEN Director Kenneth Blanco has told financial institutions interested in serving marijuana-related businesses to follow those guidelines, and Comptroller of the Currency Joseph Otting has called on Congress to take action to resolve the issue.
The association is also engaged with the DOJ as it works with other agencies to reduce financial fraud and abuse of elder Americans.
Get daily updates.
Subscribe to NAFCU today.