April 02, 2020
Berger to Calabria: Protect CUs, mortgage industry from forbearance distress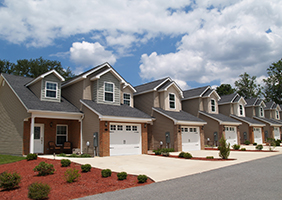 As Congress and the Federal Housing Finance Agency (FHFA) work to ensure the safety and well-being of consumers through mortgage forbearance options during the coronavirus pandemic, NAFCU President and CEO Dan Berger raised concerns to FHFA Director Dr. Mark Calabria about the consequences of these forbearances on credit unions and the mortgage industry as a whole.
Under the CARES Act, borrowers are able to request forbearance on single-family and multifamily loans sold to the GSEs. However, credit union mortgage servicers are required "to continue to make payments to investors on the interest, with respect to Freddie Mac mortgages, and interest and principal, with respect to Fannie Mae mortgages, on [mortgage-backed securities (MBS)], based on a calculation of the unpaid principal balance of the loan after the last payment was received from the borrower," Berger noted.
The CARES Act does not provide relief for mortgage servicers.
"Unlike for-profit banks, credit unions are uniquely limited in their sources of regulatory capital, so a large increase in the number of forbearance requests from borrowers affected by the novel coronavirus (COVID-19) pandemic could significantly strain credit unions' liquidity needs," Berger wrote. To address these concerns, Berger called on the FHFA to "assist credit unions facing large monthly payments on nonperforming loans sold to the [government-sponsored enterprises (GSEs)] and also protect credit unions from the secondary impacts of liquidity issues threatening their third-party servicers."
Berger urged swift assistance, similar to what has been granted by Ginnie Mae for servicers, for "mortgage servicers that have sold loans to the GSEs in order to avoid negative impacts on credit union net worth and to protect the stability of credit union mortgage servicers."
In addition, Berger flagged potential operational challenges for credit unions faced with failure of their third-party servicers/sub-servicers.
"For example, some third-party servicers process borrowers' forbearance requests; if the third-party servicer were to fail, mandatory compliance with such requests would be significantly delayed and disrupted," Berger wrote. "Additionally, many credit unions that rely on third-party servicers do not have their own systems in place to process mortgage loan payments. In these situations the sub-servicers process payments, complete all accounting on the members' account, and report payments to the credit reporting agencies.
"If these mortgage servicers were to fail, credit union members would experience significant delays as credit unions work to notify all members to send payments directly to the credit union, develop new systems to process payments and credit their members' accounts. Those credit unions that retain servicing rights on their loans, but use a third-party servicer, would be unable to process mortgage payments for months until they could operationalize their own systems," he added.
Berger called on the FHFA to continue to work with the Treasury Department and other stakeholders "to ensure that liquidity shortfalls at these non-bank mortgage servicers do not have a domino effect on depository institutions and borrowers, and cripple the entire housing finance system."
Berger also asked for a streamlined loan modification process that does not disadvantage small servicers, such as credit unions, given the large number of loan forbearance requests credit unions expect to receive in the coming months.
While NAFCU continues to advocate for protection and relief for credit union mortgage servicers facing an increase in forbearance requests, the association's Compliance Team has more information on the related CARES Act provisions and previous guidance from Freddie Mac that could help credit unions address mortgage loan modifications after forbearance. Access all FHFA announcements, plus Fannie Mae and Freddie Mac guidance related to coronavirus efforts here.
NAFCU has developed a dedicated coronavirus resource page; the association has resources ones specifically on regulator actions (including the FHFA) and the CARES Act.
Related Resources
---
Get daily updates.
Subscribe to NAFCU today.