September 25, 2019
Berger: Regulators, Congress must coordinate on fintech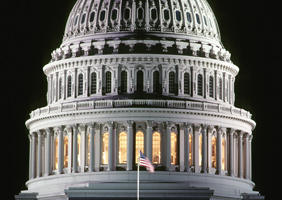 NAFCU President and CEO Dan Berger urged key members of the Federal Financial Institutions Examination Council (FFIEC) to consider enacting regulation to achieve a level playing field between fintech companies and traditional financial institutions as he shared the association's new fintech whitepaper.
"In the paper, NAFCU advocates for regulator coordination with Congress to ensure that credit unions and fintech companies compete on a level playing field where collaboration is valued and consumers are appropriately protected," Berger said. He shared the whitepaper directly with NCUA Board Chair Rodney Hood and Members Todd Harper and Mark McWatters, CFPB Director Kathy Kraninger, Federal Reserve Chair Jerome Powell, and Treasury Secretary Steven Mnuchin.
NAFCU developed its whitepaper to chart a path towards regulatory coordination between traditional financial institutions and fintech companies. NAFCU is active in the fintech landscape: The association has worked closely with the Federal Reserve and other stakeholders on making the U.S. payments system faster and more secure, and is also a member of two blockchain consortia to give credit unions direct access to use cases being developed.
The whitepaper includes an overview of political and regulatory efforts related to fintech. The House Financial Services Committee has financial innovation as part of its fall priorities, and the CFPB has recently taken steps to "encourage regulatory innovation" and promote innovation and facilitate compliance at financial institutions.
With its whitepaper, NAFCU recommended the FFIEC – which is comprised of five banking regulators, including the NCUA and CFPB, and state regulator representatives – form a subcommittee on emerging technology to monitor risks posed by fintech companies and develop a joint approach for facilitating innovation. The subcommittee should:
annually report to Congress its findings, including a determination of whether regulatory reforms are necessary to mitigate supervisory gaps resulting from fintech business models or entirely new applications of technology;

define the parameters of responsible innovation to ensure consistent examination of emerging technologies. In doing so, the subcommittee should distinguish traditional banking activities from non-traditional activities;

identify best practices for responsible innovation that reflect the constraints of different industry segments within the financial sector; and

formally recommend to Congress ways to improve financial laws to allow FFIEC regulated institutions to adopt new technologies more easily and with greater legal certainty.
NAFCU remains committed to ensuring a level playing field for credit unions and will continue to monitor the financial services landscape for potential changes that could impact the industry. NAFCU plans to continue to meet with regulators to figure out how the association can help the credit union industry embrace innovations and remain competitive.
Related Resources
---
Get daily updates.
Subscribe to NAFCU today.