June 13, 2019
BSA, NFIP reform bills advance out of House committee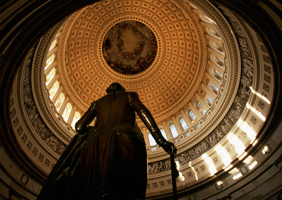 The House Financial Services Committee Wednesday advanced NAFCU-supported bills that would reform aspects of the Bank Secrecy Act (BSA) and National Flood Insurance Program (NFIP) and encourage homebuyers to participate in financial education programs.
The committee markup included eight bills, all of which now move to the full House for consideration.
The Corporate Transparency Act (H.R. 2513), offered by Rep. Carolyn Maloney, D-N.Y., would help financial institutions comply with the new customer due diligence rule by requiring companies to disclose their true "beneficial owners" to the Financial Crimes Enforcement Network. This information would then be used to create a database of beneficial ownership information that would be available to law enforcement agencies and financial institutions.
The committee previously advanced a bill related to thresholds for suspicious activity and currency transaction reports. A bipartisan group of Senators is also working on draft legislation related to BSA issues.
Committee Chairwoman Maxine Waters', D-Calif., bill – the National Flood Insurance Program Reauthorization Act (H.R. 3167) – would reauthorize the program for five years. It also includes improvements and takes steps to continue the financial solvency of the program to maintain market stability. However, NAFCU cautioned against attempts to raise annual premium rates too rapidly.
The House Financial Literacy Act (H.R. 2162), offered by Rep. Joyce Beatty, D-Ohio, would incentivize first-time homebuyers to participate in financial literacy programs in order to receive a discount on Federal Housing Administration mortgage insurance premium payments. NAFCU noted that participation in such programs "drastically lower late payment and default rates."
NAFCU will keep credit unions updated as these bills are considered by the House.
Related Resources
---
Get daily updates.
Subscribe to NAFCU today.