May 28, 2020
CFPB updates HMDA compliance guide with recent changes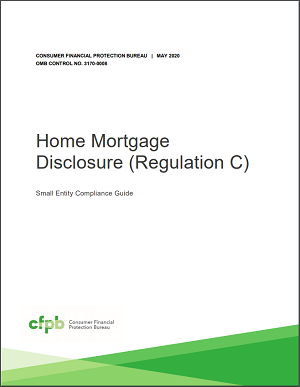 The CFPB Wednesday released an updated version of its Home Mortgage Disclosure Act (HMDA) Small Entity Compliance Guide to reflect recent changes to Regulation C that increased the data reporting thresholds under HMDA.
Last month, the bureau issued the final rule to increase the reporting threshold for closed-end dwelling secured loans from 25 loans in the preceding two calendar years to 100 loans. This change takes effect July 1.
In addition, the rule increases the threshold for reporting open-end lines of credit, including home equity lines of credit (HELOCs), from the original threshold of 100 loans in the 2015 rule to 200 loans effective Jan. 1, 2022. Until the new threshold takes effect, the temporary threshold of 500 open-end lines of credit, which was extended until 2022 in October, will remain in place.
The updated HMDA guide details these changes and also notes relief provided by the bureau amid the coronavirus pandemic that it "does not intend to cite in an examination or initiate an enforcement action against any institution for failure to report its HMDA data quarterly. At a later date, the Bureau will provide information as to how and when it expects institutions under its jurisdiction to resume quarterly HMDA data submissions."
NAFCU has additional HMDA resources available to credit unions online.
Related Resources
Home-Secured Lending
Blog Post
Home-Secured Lending Examination & Enforcement
Blog Post
Home-Secured Lending
Blog Post
Home-Secured Lending
Blog Post
---
Get daily updates.
Subscribe to NAFCU today.