May 05, 2021
CUs, NAFCU meet with Rep. Brady on tax exemption, key issues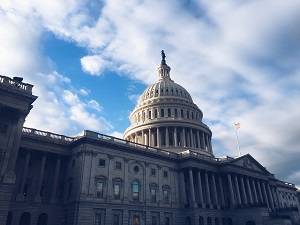 NAFCU-member credit unions from Texas joined the association for a meeting with House Ways and Means Committee Ranking Member Kevin Brady, R-Texas, to discuss efforts to preserve the credit union tax exemption and ensure a legislative and regulatory environment that allows credit unions to thrive.
Keith Kearny, president and CEO of InvesTex Credit Union (Houston, Texas), and Erik Shaw, president and CEO of 5Point Credit Union (Nederland, Texas), joined NAFCU President and CEO Dan Berger, Vice President of Legislative Affairs Brad Thaler, and Associate Director of Legislative Affairs Lewis Plush for the meeting.
While serving in Congress, Brady has been a credit union champion and instrumental in protecting credit unions' tax exemption, including in the 2017 Tax Cuts and Jobs Act. He also worked to provide a NAFCU-sought fix in the tax bill to repeal the excise tax imposed on fringe benefits – such as transportation and parking – but that legislation was not taken up by the Senate after passing the House in 2018. Brady recently announced he will not seek reelection in the 2022 midterm elections.
NAFCU has met repeatedly with members of Congress, including Brady, to discuss the importance of the credit union tax exemption and share an independent tax study that details the exemption's value to the U.S. economy. The association consistently sets the record straight on the benefits of the tax exemption in the face of misleading banker attacks.
In addition to discussing the tax exemption, the Texas-based credit unions shared how they have worked to support members facing financial hardships in the wake of the coronavirus pandemic, as well as how legislative proposals that could add regulatory burdens would negatively impact the industry.
NAFCU is currently monitoring President Joe Biden's proposals related to infrastructure, the economy, and fiscal year 2022 funding to ensure credit union priorities are addressed. Related to those efforts, the association is actively advocating against proposals that would establish postal banking or add Community Reinvestment Act (CRA)-like burdens on credit unions.
NAFCU will continue to meet with lawmakers to share the credit union difference and advocate for policies that allow the industry to thrive and better serve its 124 million members.
Related Resources
---
Get daily updates.
Subscribe to NAFCU today.