May 04, 2021
Explore what's new on the NAFCU Networks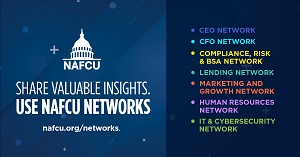 The NAFCU Networks continue to grow – closing in on 14,000 users – as they provide online communities to credit union professionals looking to collaborate on issues facing the industry, get insights into processes and partnerships, and discuss strategies to continue strengthening and growing their institutions.
There are seven networks designed specifically for staff serving in key roles at credit unions. Here's a look at the networks and recent topics of discussion:
NAFCU's newest network brings together credit union leaders looking to stay on top of the latest trends and connect with peers to work through challenges, discover powerful new ideas, and share knowledge. Some recent posts discuss remote work and provide access to NAFCU's updated annual Salary Comparison Report – available exclusively to NAFCU-member CEOs.
Designed for CFOs, controllers, treasurers and other finance executives, participants in the CFO Network have recently shared insights into the end-of-month financial reporting process, recent Federal Reserve changes to its reserving policy related to Regulation D, offering nonmember deposits, and acquiring vendor partnerships for the new current expected credit loss (CECL) standard.
Compliance, Risk & BSA Network
NAFCU's largest network connects professionals serving in the critical roles of compliance, risk, and Bank Secrecy Act (BSA) officers. In the past week, members have posed questions related to check fraud, peer-to-peer transfers on cash apps, currency transaction reporting requirements for ATMs, customer identification program requirements, and more.
One of NAFCU's newest networks, the Cybersecurity & IT Network looks to support the industry's efforts to strengthen systems and ensure member data is safe and secure. Some of the recent posts have covered the recent Experian credit score data exposure and browser compatibility as credit unions look to maintain common operating environments (COEs) in a virtual work environment.
Human resource professionals are connecting on the network to discuss incentive plans, modernizing dress codes, establishing cybersecurity training modules for staff, and revising organizational charts to better fit credit unions' needs as they grow.
For credit union professionals charged with managing their institution's loan portfolios and lending opportunities, this network has recent discussion threads on increasing consumer lending goals, considerations for residential and commercial construction lending policies, providing auto loans to ride-share drivers, and meeting flood insurance requirements for mortgage loans.
As credit unions look to reach more members and ensure their products and services are meeting their membership's needs, the Marketing & Growth Network provides invaluable insights. Recent posts cover mobile deposit endorsement requirements, finding the right digital marketing partner, credit card rewards programs, ROI tracking, and more.
The NAFCU Networks are free, member-only resources. Register now to join a NAFCU Network, or email info@nafcu.org for assistance. Representatives from NAFCU-member credit unions may use their NAFCU website login to access the network.
Interested in serving on one of the network's steering committee? Contact NAFCU Senior Member Experience Strategist Allyson Gale directly at agale@nafcu.org.
Related Resources
Examination & Enforcement
Blog Post
Add to Calendar 2021-12-07 14:00:00 2021-12-07 14:00:00 Protect your CU: Building a Secure Cloud Infrastructure About the Webinar Moving to the cloud saves time, upskills resources, and reduces costs. Most importantly, it makes infrastructure more secure and automates security checks and monitoring. With increases in ransomware scares and other security concerns, financial institutions are leaning on the cloud to better provision for these threats. Join AWS, Think|Stack, and ALPS Federal Credit Union to learn more about how you can build security protocols into your infrastructure and mitigate risks by migrating to the cloud. Watch the Webinar Web NAFCU digital@nafcu.org America/New_York public
preferred partner
Amazon Web Services
Webinar
---
Get daily updates.
Subscribe to NAFCU today.