April 22, 2020
FHFA heeds NAFCU call for mortgage servicer relief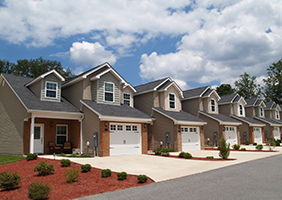 The Federal Housing Finance Agency (FHFA) Tuesday announced it will provide a four-month limit on advances of principal and interest payments for loans in forbearance sold to the government-sponsored enterprises (GSEs). NAFCU last week discussed with the FHFA credit union concerns and issues related to mortgage forbearances as the association sought more guidance and relief.
"We appreciate the FHFA's efforts to limit the number of principal and interest payments credit unions and other mortgage servicers must make on behalf of their borrowers in forbearance during the coronavirus pandemic," said NAFCU President and CEO Dan Berger. "This relief will help ensure credit unions remain safe and sound throughout the pandemic while also freeing up their capital to make needed loans to their members in need of emergency assistance. This is strong, positive and prudent policymaking on behalf of FHFA Director Mark Calabria, and we appreciate the agency working with NAFCU throughout the process."
Under the CARES Act, borrowers experiencing financial hardship during the coronavirus crisis may request forbearance on single-family and multifamily loans sold to the GSEs, and in response mortgage servicers must provide a forbearance that allows borrowers to defer their mortgage payments up to 180 days with an option for an additional 180-day extension. However, the CARES act does not provide relief for mortgage servicers, such as credit unions.
The FHFA's announcement provides GSE mortgage servicers – regardless of type or size – with principal and interest payment relief. It also instructs the GSEs to maintain loans with coronavirus forbearance plans in their mortgage-backed security (MBS) pools, which could further assuage servicers' liquidity concerns and reduce the impact on prepayment speeds on MBS.
There is also a possibility that a liquidity facility for mortgage servicers could be established. The CARES Act provides that the Federal Reserve, with the consent of the Treasury Department, may set up that facility, which could provide more relief and stabilize the mortgage market.
NAFCU previously shared concerns about increased forbearance requests negatively impacting credit unions with FHFA Director Mark Calabria and urged swift assistance, similar to what has been granted by Ginnie Mae for servicers, in order to avoid negative impacts on credit union net worth and operations.
NAFCU will continue to monitor the mortgage market and ensure credit unions' concerns are addressed as more forbearance requests are made amid the coronavirus pandemic.
Related Resources
Home-Secured Lending Consumer Lending
Blog Post
Home-Secured Lending
Blog Post
Home-Secured Lending
Blog Post
Home-Secured Lending Examination & Enforcement
Blog Post
---
Get daily updates.
Subscribe to NAFCU today.