June 13, 2019
Hood: CU landscape has never been stronger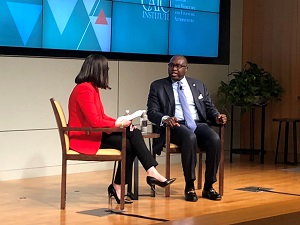 NCUA Chairman Rodney Hood lauded the credit union industry while discussing regulatory challenges and fintech pressures during a "Fireside Chat," hosted by the Cato Institute Wednesday. The chat – part of the 5th annual "Financial Inclusion: The Cato Summit on Financial Regulation" – featured other financial regulators, including FDIC Chairman Jelena McWilliams and representatives from the CFPB and Office of the Comptroller of the Currency.
Also Wednesday, reports indicated that Hood responded to recent banker attacks challenging the NCUA's oversight authority in light of the New York taxi medallion crisis. Hood said that ridesharing services are "a technological disruption whose impact was as severe as it was uncontrolled," and indicated that the NCUA will tighten supervision of credit unions who hold high concentrations of one particular type of loan. NAFCU defended the credit union industry to lawmakers following the banker attacks.
At the Cato event - attended by NAFCU's Sarah Jacobs, regulatory and legislative assistant - Hood noted that regulation needs to be "effective but not excessive," when asked about the agency's regulatory approach. He acknowledged that burdensome regulations can prevent credit unions from achieving their mission. He also discussed his individual regulatory agenda, which includes the need for infrastructure to protect credit union data while also encouraging credit unions to look at fintech and innovation as a framework.
In regards to fintech, Hood highlighted ways in which credit unions are using technology to reach underserved populations. NAFCU acknowledges that fintech can produce real benefits to consumers; however, the association has urged lawmakers and regulators to ensure a level playing field between fintech companies and financial institutions, from data security to consumer protection.
Hood was also asked about including credit unions under the Community Reinvestment Act (CRA). Hood stated that the CRA was a "punitive measure" put in place because of banks' redlining, and defended credit unions' efforts to help people without being forced to do so by Congress. NAFCU has strongly opposed extending CRA regulations to credit unions.
Hood also discussed charter modernization efforts, specifically mentioning that many credit unions are equipped to serve low income underserved areas but cannot due to chartering, as well as issues related to the Bank Secrecy Act and payday alternative loans.
NAFCU President and CEO Dan Berger met with Hood last month to discuss priorities for the agency and Berger has previously outlined several regulatory priorities that the association would like the board to consider.
CFPB Deputy Director Brian Johnson, who also spoke at  yesterday's event, pledged that the agency will provide more guidance to both consumers and the market about its approach to the law. 
The CFPB announced that it will host the first of a symposia series,  to clarify "abusive" under unfair, deceptive or abusive acts or practices (UDAAP). 
NAFCU has long advocated for the bureau to issue specific guidance on prohibited practices so financial institutions have more clarity on this issue. Last year, NAFCU again asked the bureau to provide guidance to clarify the UDAAP standard.
Related Resources
Add to Calendar 2019-12-04 14:00:00 2019-12-04 14:00:00 Seeing Fraud in 2020 – Strategies to Prevent It About the Webinar  Looking Back at What Types of Fraud Topped 2019 and What's Ahead in 2020 During this webinar, industry experts Tammy Behnke and Ann Davidson will look into their "Fraud Crystal Ball" to provide fraud prevention tips for 2020 and beyond. This webinar will focus on: Fraud losses reported from both the Bond and credit union's perspectives in 2019 Strategies, parameters and layers credit unions can leverage to help detect, prevent, and mitigate fraud in 2020 Watch the Webinar On-Demand Web NAFCU digital@nafcu.org America/New_York public
webinar
preferred partner
Allied Solutions
---
Get daily updates.
Subscribe to NAFCU today.