February 28, 2020
Kossachev: CU-sought TCPA reforms would improve illegal robocall blocking efforts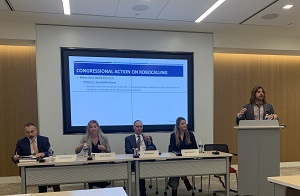 NAFCU Director of Regulatory Affairs Ann Kossachev, while speaking on a panel about the implementation of the Telephone Robocall Abuse Criminal Enforcement and Deterrence (TRACED) Act, flagged that several credit unions have seen their legitimate calls blocked as voice service providers work to eliminate illegal robocalls. NAFCU previously shared concerns about this aggressive call blocking directly with the Federal Communications Commission (FCC).
The TRACED Act was signed into law late last year and expands the FCC's enforcement authority over violations of the Telephone Consumer Protection Act (TCPA). Prior to its enactment, the FCC issued a Declaratory Order and Notice to allow call blocking in June 2019 and implement new caller identification framework known as SHAKEN/STIR.
Throughout the panel discussion, Kossachev argued that credit unions' warranted calls for broad TCPA reforms – to ensure they can contact members with important financial information without fear of breaking the law or their calls being erroneously blocked or mislabeled as scams by service providers – would not hinder well-intentioned efforts to combat illegal robocalls.
The panel also included representatives from NTCA-The Rural Broadband Association, USTelecom-The Broadband Association, and the CTIA.
NAFCU has actively worked with the FCC on efforts to modernize the TCPA for more than three years, and will continue its advocacy to ensure credit unions can contact their members regarding important, time-sensitive information, without fear of frivolous litigation.
Reforms are needed as courts continue to split on what constitutes an autodialer: Earlier this month, the U.S. Court of Appeals for the Seventh Circuit determined that devices that merely store numbers to be dialed are not covered by the TCPA, breaking with a previous decision and invalidating the FCC's 2003 and 2008 predictive dialer rulings. The Supreme Court is currently preparing to review the constitutionality of a provision of the TCPA.
Most recently, NAFCU met with FCC Commissioner Michael O'Rielly to discuss ongoing efforts to eliminate illegal robocalls and to implement SHAKEN/STIR. In a letter following up on a meeting, the association reiterated its call for guidance and relief under the TCPA and shared concerns from member credit unions.
Related Resources
---
Get daily updates.
Subscribe to NAFCU today.