June 07, 2019
Language to protect legit callers added to robocall ruling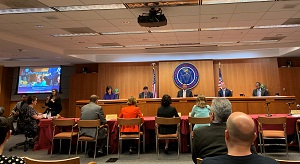 The Federal Communications Commission (FCC) Thursday unanimously approved a declaratory ruling related to robocalls but made a positive change to the ruling prior to passage that will allow redress for erroneously blocked calls. NAFCU had shared concerns with FCC Chairman Ajit Pai's staff that credit unions' calls to members could be erroneously blocked if the ruling was implemented without changes.
"We remain disappointed that the FCC crafted this new, far-ranging policy without the opportunity for public feedback," said Carrie Hunt, NAFCU's executive vice president of government affairs and general counsel. "While the FCC's inclusion of language requiring phone companies to allow legitimate businesses to challenge erroneously blocked calls is a positive step, necessary and time-sensitive calls and texts would still be significantly delayed or prevented entirely as a result of this policy. In the event of fraud or a data breach, consumers could be left in the dark for days, exposing their financial accounts to increased risks and theft.
"We encourage the FCC and Congress to revisit the issue; it is imperative policy distinguishes between important consumer communications and illegal robocalls."
Hunt's response was featured in Politico and Bloomberg.
The ruling permits voice service providers to automatically block suspected robocalls unless a consumer opts out. The FCC added language that allows legitimate callers to file complaints with the providers for mistakenly blocked calls. NAFCU will continue to review the ruling and monitor its implications on credit unions.
Also during Thursday's meeting, the commission approved publication of a proposal to require phone companies to incorporate a caller identification framework called SHAKEN/STIR.
In addition to meeting with Pai's staff, NAFCU attended a coalition meeting with staff from other commissioners' offices to discuss robocall issues. A recent Compliance Blog post explained how the proposal could impact credit unions (read it here).
NAFCU also joined with nine other trades to share concerns that "urgent calls affecting consumer health, safety, and financial well-being" could be erroneously blocked by the proposed ruling.
NAFCU has actively worked with the FCC on efforts to modernize the TCPA for more than three years. The association previously shared its concerns related to the definition of an autodialer and the need for clarity under the TCPA to ensure credit unions can contact their members without fear of breaking the law.
The association has also met with the CFPB and Treasury Department to discuss TCPA reforms and how credit unions will be impacted.
Related Resources
---
Get daily updates.
Subscribe to NAFCU today.