April 28, 2021
Lawmakers discuss ways to combat fraud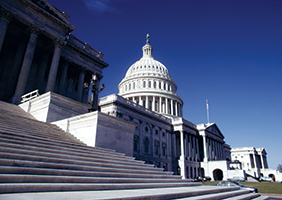 Two congressional hearings Tuesday explored ways to combat fraud and scams, including the Federal Trade Commission (FTC) authority to take enforcement action. The Senate Commerce Committee's hearing was focused primarily on COVID-related fraud and scams, while the House Energy and Commerce Committee's hearing centered on returning funds to consumers who have been scammed.
In the Senate Commerce Subcommittee on Consumer Protection, Product Safety, and Data Security hearing, senators raised concerns about fraud within the Small Business Administration's (SBA) paycheck protection program and medical scams, including fake personal protection equipment (PPE) as people sought to protect themselves from the coronavirus.
Over the past year, the NCUA, Financial Crimes Enforcement Network (FinCEN) and other agencies have flagged COVID-related fraud risks. The NCUA in August issued a Risk Alert that included SBA loan fraud and unemployment fraud. FinCEN has also issued alerts on medical scams and unemployment insurance fraud.
Senators discussed ways to strengthen agencies' enforcement measures, provide the FTC with additional resources, and increase their ability to take fraudsters to court. Two pieces of legislation were raised:
the SAFE DATA Act, which was introduced last session but has not yet been reintroduced this session, would increase business transparency and hold them accountable for consumers' data while strengthening the FTC's ability to take enforcement action against fraudsters and establishing a fund to provide monetary relief for consumers' privacy violations; and
the TRACED Act, which was enacted in 2019 and seeks to combat illegal robocalls. NAFCU is supportive of this effort and has worked with the Federal Communications Commission on ways to ensure credit unions' legitimate calls are not erroneously blocked. Sen. John Thune, R-S.D., asked FTC Bureau of Consumer Protection Acting Director Daniel Kaufman during Tuesday's hearing if the TRACED Act had been successful in curbing robocalls, and Kaufman said that it has.
In the House Energy and Commerce Subcommittee on Consumer Protection and Commerce hearing, lawmakers' discussion focused on legislative efforts to ensure the FTC has enforcement authority to seek monetary relief for consumers or require bad actors to return money earned through illegal activity.
NAFCU will continue to keep credit unions informed of fraud trends to protect their members and institutions, and regulatory efforts to combat illicit activities.
Related Resources
---
Get daily updates.
Subscribe to NAFCU today.