January 16, 2020
Lawmakers talk CECL's negative impacts, lack of understanding at hearing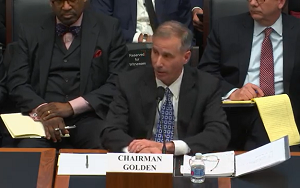 Several lawmakers flagged the potential economic consequences of the current expected credit loss (CECL) standard and criticized the lack of understanding about its impact during a House Financial Services Subcommittee on Investor Protection, Entrepreneurship, and Capital Markets hearing Wednesday featuring Financial Accounting Standards Board (FASB) Chairman Russell Golden.
Ahead of the hearing, NAFCU Associate Director of Legislative Affairs Janelle Relfe sent a letter to subcommittee members warning that the "impact on credit union capital levels from the CECL standard could likely result in credit unions making fewer loans to members primarily in the mortgage and commercial loan space."
NAFCU for years has argued that CECL is not appropriate for credit unions and advocated for an exemption for the industry. While FASB in November made final a delay to its current expected credit loss (CECL) standard – postponing credit unions' compliance date to 2023 – NAFCU continues to push for more guidance and relief for credit unions under the standard with the NCUA and FASB.
Throughout the hearing, lawmakers on both sides of the aisle raised concerns about the lack of economic studies that have been conducted to see how CECL could impact financial institutions' willingness to lend, especially during downturns.
Golden contended that CECL increases transparency for investors and other stakeholders, and would actually increase lending during recessions.
In addition, subcommittee Ranking Member Bill Huizenga, R-Mich., flagged a provision of the fiscal year 2020 Financial Services and General Government funding bill that requires the Treasury Department to study CECL's negative impacts. Golden argued against putting a moratorium on the standard's implementation, saying that the data collected by those institutions now complying with the standard will help inform studies.
Rep. Vicente Gonzalez, D-Texas, brought up unique challenges credit unions face "because of capital retention due to their structure and the way new members are acquired." He asked Golden how credit unions would generate additional capital to meet retention requirements.
"My understanding is that a credit union would have to retain their income," Golden responded. "One of the things about allowing additional time is it gives credit unions additional time to retain their income… I agree with you that the FASB does not set the capital requirements for credit unions."
As credit unions prepare to comply with CECL, NAFCU has several resources available online. The standard also remains on the NCUA's supervisory priorities for 2020, and the agency has indicated it plans to phase-in CECL's negative impact on credit union net worth ratios.
Get daily updates.
Subscribe to NAFCU today.