January 23, 2020
NAFCU advocacy hits ground running in 2020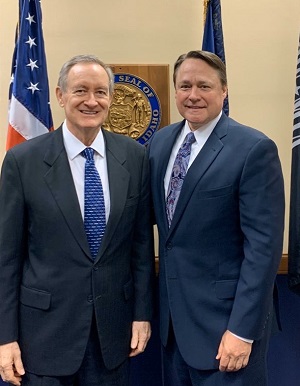 NAFCU President and CEO Dan Berger and the association's award-winning advocacy team have started 2020 strong, taking to Capitol Hill and reaching out to key administration officials – including President Donald Trump – and regulators to share issues credit unions would like addressed this year.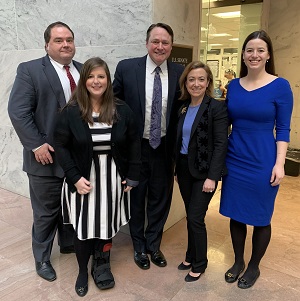 Growth remains NAFCU's No. 1 priority, and its 2020 legislative and regulatory priorities are all developed with credit union input to ensure the industry's continued success. Of note, credit unions continue to see membership growth – now providing safe, affordable financial services to nearly 120 million Americans – as well as loan and asset growth.
Last week, Berger and NAFCU lobbyists met with key members of the Senate Banking Committee, including Chairman Mike Crapo, R-Idaho, Ranking Member Sherrod Brown, D-Ohio, and Sens. Jon Tester, D-Mont., Doug Jones, D-Ala., and Chris Van Hollen, D-Md., to discuss housing finance reform, efforts to create a national data privacy standard, the Senate's approach to BSA reforms following House-passage of NAFCU supported bills, and legislation to provide the NCUA with greater flexibility in setting loan maturity limits.
These meetings came on the heels of another day on Capitol Hill, during which NAFCU's unmatched relationships in Congress were on full display. NAFCU maintains these relationships to ensure credit unions' voices are heard at the highest levels of government.
In addition to the Capitol Hill meetings, members of NAFCU's Government Affairs team met with NCUA Office of Examinations and Supervision Director Scott Hunt to discuss the agency's exam modernization efforts and 2020 supervisory priorities. The newest Compliance Monitor and a recent NAFCU Compliance Blog post provide credit unions with resources to be successful during exams this year.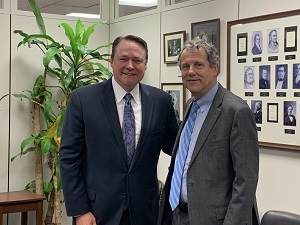 NAFCU launched its 2020 priorities as Congress returned to Washington for the second session of the 116th Congress. Berger sent the priorities to the House and Senate in a letter to Senate Majority Leader Mitch McConnell, R-Ky., Senate Minority Leader Chuck Schumer, D-N.Y., House Speaker Nancy Pelosi, D-Calif., and House Minority Leader Kevin McCarthy, R-Calif.
Berger also shared them with key officials, including:
President Trump;

Treasury Secretary Steven Mnuchin;

Federal Reserve Chairman Jay Powell;

U.S. National Economic Council Director Larry Kudlow;

Department of Housing and Urban Development Secretary Ben Carson;

Federal Housing Finance Agency Director Dr. Mark Calabria;

Federal Communications Chairman Ajit Pai;

CFPB Director Kathy Kraninger; and

NCUA Board Chairman Rodney Hood and Board Members Todd Harper and J. Mark McWatters.
NAFCU will maintain its reputation as the credit union industry's Washington Watchdog throughout 2020 to advocate on the issues that will impact institutions' success, in addition to providing members with exceptional member service and access to the resources and connections needed to keep growing.
Learn more about NAFCU's 2020 priorities and see the wins the association achieved in 2019 that set the stage for even more success this year.

Related Resources
Add to Calendar 2023-11-30 09:00:00 2023-11-30 09:00:00 Safeguarding Credit Unions with Threat Intelligence Listen On: Key Takeaways: [1:01] What is threat intelligence, and why is it important to CUs? [2:14] What are threat intelligence feeds, and what role do they play in strengthening CUs? [4:41] Leveraging threat feeds and integrating intelligence into tools is crucial. [6:35] Learn what threat CUs should be most concerned about. [7:39] Phishing is ever-evolving, and user awareness is critical. [10:43] Learn how Defense Storm uses feeds to protect its customers. [13:28] Threat intelligence is not as complicated as some think; initiation can be easy through Slack, discussions, and a reporting culture. Web NAFCU digital@nafcu.org America/New_York public
preferred partner
DefenseStorm
Podcast
Consumer Lending
Blog Post
Add to Calendar 2023-11-28 09:00:00 2023-11-28 09:00:00 Growing Creatively & Innovatively in 2024 Listen On: Key Takeaways: [0:58] What can credit unions do to best prepare themselves for 2024? [2:12] Although he sees a glimmer of hope, Jack points out that the liquidity crisis and slow prepayment speeds hamper rapid recovery. [5:22] We discuss how credit unions seek low loan growth through member-centric strategies such as second mortgages and home improvement lending. [7:34] Credit unions are leveraging advancing technology for member-focused engagement. [9:31] How will technology continue to evolve and affect credit unions? [11:43] What role does AI play in innovative growth? [14:14] Credit unions adopt technology for efficiency, enabling staff to focus on personalized member interactions, especially with younger generations. [17:14] Closing thoughts, emphasizing competition against banks and fintech for younger generations. Web NAFCU digital@nafcu.org America/New_York public
Strategy & Growth, Consumer Lending
preferred partner
Allied Solutions
Podcast
---
Get daily updates.
Subscribe to NAFCU today.