May 17, 2021
NAFCU details Fed proposals related to interchange regulation, account payment services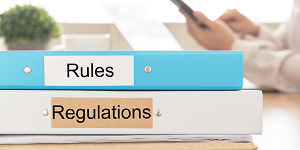 NAFCU Friday sent members two new Regulatory Alerts breaking down updates from the Federal Reserve: the first detailing a proposal to make changes to Regulation II, which focuses on the prohibition concerning network routing exclusivity, and the second breaking down a request for comment on a set of proposed guidelines the Federal Reserve Banks will use when evaluating requests for accounts and payments services.
In the first Regulatory Alert, NAFCU noted that the Fed's proposal on interchange regulation clarifies the requirement for debit card issuers to enable – and allow merchants to choose from – at least two unaffiliated networks for card-not-present transactions, such as online purchases.
In addition, NAFCU highlighted that the proposed rulemaking would not alter interchange fees and would not alter the Regulation II exemption from interchange fee limitations for financial institutions with less than $10 billion in assets.
NAFCU joined with several other financial services trade groups in a letter sent in response to the proposal to oppose "any attempt to undermine the payments system at the expense of consumers."
The association will continue to advocate against efforts that would undermine credit unions' interchange income and limit their ability to offer their 124 million members affordable products and services. Credit unions are encouraged to provide feedback and offer insights on this proposal; comments are due to NAFCU June 28.
For more information on the proposed changes – including a section-by-section analysis – view the Regulatory Alert.
In the second Regulatory Alert, NAFCU highlighted that the Fed's proposed guidelines for accounts and payment service access would formalize transparent and uniform principles for Reserve Banks to follow when they process applications for account or service access, rather than having each individual Reserve Bank use discretionary guidelines.
NAFCU also noted that the implementation of transparent and uniform guidelines will help to ensure that riskier, fintech applicants are held to appropriate standards when seeking master account and payment system access. The association has previously raised concerns about Fed access for fintech companies as they could pose risks to the financial system.
Comments are due to NAFCU June 28. For more information, including questions for credit unions to consider, view the Regulatory Alert; subscribe to receive Regulatory Alerts in your inbox.
Related Resources
---
Get daily updates.
Subscribe to NAFCU today.