July 22, 2020
NAFCU, EXIM partner to promote small biz lending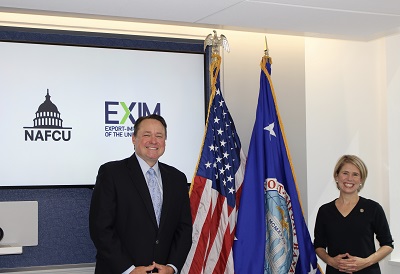 NAFCU and the Export-Import Bank (EXIM) Tuesday signed a two-year Memorandum of Understanding (MOU) aimed at increasing credit union awareness of export financing opportunities offered by the agency and credit unions' participation in them. NAFCU President and CEO Dan Berger and EXIM President and Chairman Kimberly Reed signed the agreement.
"NAFCU is proud to partner with the Export-Import Bank to increase awareness of the lending opportunities the agency has available for credit unions' small-business members," said Berger. "Credit unions have long been committed to supporting Main Street small businesses, now more than ever as adversity persists and challenges mount in today's economy. It is paramount that credit unions remain informed of all available lending options, including EXIM's guaranteed loan which is exempt from the member business lending cap."
"It was an honor to join NAFCU President and CEO Dan Berger today to sign the first-ever EXIM-NAFCU Memorandum of Understanding," said Reed. "For more than two decades, I have engaged with credit unions on issues important to the U.S. economy, small businesses, and millions of consumers. Today's effort memorializes an important commitment to help America's small business owners who seek export financing solutions to be successful in the global marketplace. As we re-open our economy, I look forward to working with NAFCU President Berger to raise awareness with credit unions and their members about the support EXIM can provide."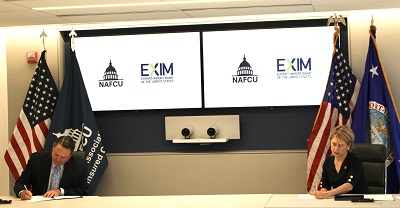 Watch a recording the MOU signing with Berger and Reed at NAFCU's headquarters in Arlington, Va., here.
During the signing, Berger shared how credit unions have stepped up amid the coronavirus pandemic to offer financing support to small businesses in need and said that, with the EXIM partnership, the association "hopes to alleviate some of that burden by raising awareness of available services and access to capital to help businesses bounce back."
"We hope to arm credit unions with knowledge of EXIM's business loan programs, the guaranteed portion of which are exempt from the member-business lending cap, so that they may assist businesses in their local communities to strengthen ties with export partners and hopefully create more jobs for hard-working Americans during this difficult time," Berger added. "Starting today, we will be embarking on several educational and training opportunities for credit unions with business members engaged in export trade to expand participation in these important programs."
Prior to the MOU signing, Berger last month spoke with Reed about how credit unions can participate in EXIM programs and lending opportunities to provide credit to member businesses involved in exports. EXIM and the NCUA have also signed an MOU to partner on educational and training initiatives on export financing opportunities for credit unions to offer members. Reed recently touted the agency's work with the credit union industry during a Senate Banking Committee hearing.
The NCUA works closely with other regulators and agencies to ensure credit unions have access to guidance, resources, and programs that will allow them to better serve their members. The agency last year signed a three-year MOU with the Small Business Administration to increase awareness of SBA programs and bring small businesses and credit unions together. NAFCU also has a strong relationship with the SBA. Last year, the association signed a new Strategic Alliance Memorandum (SAM) aimed at expanding access to credit union small-dollar loans to businesses across the nation and previously signed MOUs with the SBA in 2015 and 2017.
Related Resources
---
Get daily updates.
Subscribe to NAFCU today.