May 18, 2021
NAFCU expresses opposition to NCUA vendor authority ahead of hearing examining regulators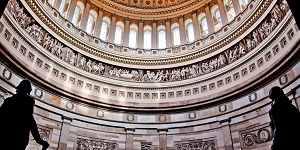 Ahead of Wednesday's oversight hearing with depository institution regulators – including NCUA Chairman Todd Harper – NAFCU's Brad Thaler wrote to the House Financial Services Committee Monday to share the association's perspective on several draft legislative proposals that are tied to the hearing.
NAFCU is leading the opposition on a legislative proposal that would grant the NCUA supervisory authority to third party vendors.
"NAFCU and our member credit unions believe that cybersecurity, including the security of vendors that credit unions do business with, is an important issue," wrote Thaler, NAFCU's vice president of legislative affairs. "However, we are opposed to granting additional authority to NCUA to examine third parties at this time. NAFCU believes in a strong NCUA, but we also believe that the NCUA should stay focused on where their expertise lies—regulating credit unions.
"Credit unions fund the NCUA budget," added Thaler. "Implementing such new authority for NCUA would require significant expenditures by the agency. The history of NCUA's budget growth has shown that these costs would ultimately be borne by credit unions and their members."
Thaler called on Congress to instead encourage the NCUA to use the Federal Financial Institutions Examination Counsel (FFIEC) to gain access to information on companies that have already been examined by other regulators.
On the topic of the National Credit Union Share Insurance Fund (NCUSIF), Thaler addressed Harper's request for Congress to make statutory changes to allow the agency more authority to make changes to the NCUSIF.

"The fact that the SIF has fared so well during the past 12 months provides ample evidence that the fund is strong and that credit unions were well-capitalized and had strong balance sheets entering the crisis. This provided them with the necessary scope to extend assistance to their members during the pandemic. The current language of the Federal Credit Union Act (FCU Act) creates this strong insurance fund for credit unions," wrote Thaler.
"We caution against any calls for statutory changes to the SIF that go against the spirit of this provision of the Act – a provision that is designed not only to keep credit unions healthy, but also keep funds available to credit union members," concluded Thaler.

NAFCU previously wrote to leaders of the House Financial Services and Senate Banking Committees earlier this year urging against any amendments to the FCU Act that would change the way the NCUA manages the NCUSIF and explaining why a premium is not warranted at this time.
NAFCU has advised the agency against a premium assessment in 2021 – as credit unions have seen significant share growth and are working to overcome challenges posed amid the pandemic – and has advocated instead for additional investment authorities.
In addition, Thaler expressed NAFCU's support for proposals that would:
allow all credit unions to add underserved areas to their fields of membership and grant member business lending exemptions for certain loans in underserved areas;

make recent changes to the Central Liquidity Facility permanent; and,

study and develop a strategic plan to make it easier to establish new credit unions
Finally, Thaler reiterated NAFCU's opposition of efforts to extend debit interchange price caps or routing requirements to credit cards (more on NAFCU's position can be found here).
Read the full letter. The hearing, scheduled for 10:00 a.m. Wednesday, will be available via livestream on the committee's website. NAFCU will monitor the hearing and update members via NAFCU Today.
Related Resources
---
Get daily updates.
Subscribe to NAFCU today.