February 20, 2020
NAFCU meets at FHFA on financial eligibility requirements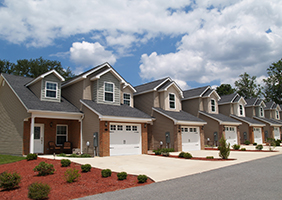 NAFCU's Carrie Hunt and Ann Kossachev met Wednesday at the Federal Housing Finance Agency (FHFA) with several executives from the agency and government-sponsored enterprises (GSEs) to discuss recently proposed updated minimum financial eligibility requirements for Fannie Mae and Freddie Mac Seller/Services.
Hunt is NAFCU's executive vice president of government affairs and general counsel and Kossachev is director of regulatory affairs.
The FHFA earlier this month proposed the updated requirements, which will also apply to servicing for Ginnie Mae mortgages and non-depository financial institutions, and the meeting included a discussion on what the requirements will mean for non-depository institutions.
According to the agency, the updated requirements intend to strengthen the government-sponsored enterprises' seller/servicer requirements, provide transparency and consistency of capital, and liquidity required for sellers/servicers with different business models. The proposed requirements will be open for public comment for 60 days, and the agency has indicated that these requirements will be finalized in the second quarter of 2020.
Last month, NAFCU shared concerns with FHFA Director Dr. Mark Calabria that credit unions are being disadvantaged by the government-sponsored enterprises' pricing methodology. In response to the FHFA's recent report, "Fannie Mae and Freddie Mac Single-Family Guarantee Fees in 2018", NAFCU suggested that further action is needed to ensure fair pricing.
NAFCU has previously met with Calabria, most recently attending a joint trades meeting with Calabria in October to further discuss housing finance reform efforts and ways to ensure fair pricing and access.
Related Resources
---
Get daily updates.
Subscribe to NAFCU today.